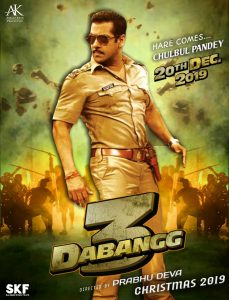 Dabangg 3
Starring Salman Khan and…does it matter?
Directed by Salman Khan (officially Prabhudheva)
Salman Khan is such a huge star. He can get his audience to watch something relevant, or at least something coherent.
Dabangg 3 is neither relevant nor coherent. It is a film (if we may call it that) which makes any sane rational human being beg for mercy. What wrong have we done to deserve almost three hours of this tedious over-saturated bombastic and imbecilic torture masquerading as a movie which brings back the overgrown brat–cop Chulbul Pandey with a part-prequel to the other two Dabangg movies where a bucolic romance unfolds between Pandey, then called Dhaakad and a pretty lass Khushi (debutante Saiee Manjrekar).
To be fair, this part of the flashback does have its moments, like the time when Dhaakad/Chulbul meeting his wife-to-be for the first time, sees Shah Rukh Khan's posters in her room and doesn't hide his jealousy.
To be honest, this is the only honest moment in Mr Salman Khan's utterly artificial and phoney performance. Someone has got to tell him that he must stop delivering his lines like a hungry pizza boy delivering his order when his mouth is filled with portions of the delivery that he gobbled on the way.
The film boasts of two writers (Dilip Shukla, Alok Upadhyay). But the writing is so slipshod it seems to have all been written on the sets. Early on there is a 'tender' (read: fatuous) moment between Chulbul and his 'sexy' (read: loud) wife Rajjo (Sonakshi Sinha looking like a one-woman commercial for well-cut blouses and colourful sarees) where he is seen putting a nara (string)in his wife's petticoat (with his toothbrush, if you will).
When Chulbul's father (played by the lateVinod Khanna's lookalike brother) mocks him for this Chulbul retorts, "Have you forgotten , you not only put a nara in Mom's petticoat you even wore it."
Come again? This is the first time Salman has resorted to vulgarity, and how! In a fight scene a man grabs another man's testicle thinking it is a gulab jamun in his pocket.
Finished laughing? Shall just throw up and give up? Or shall we move on?
But who will tell Salman Khan that his performances are juvenile jokes? Ditto, this film, a pathetic attempt to cash in on a successful franchise. A classic case of killing the goose where all the successful dialogues from the earlier films are explained… yes actually EXPLAINED. For example, while Chulbul beats up some goons in a flashback (there are so many goon-bashing episodes that by the time the long lumbering film finished it seemed like a free-for-all akhada where all the criminals of the cow belt had gathered for some stunt-porn) one goon says the line about how he will make so many holes in Chulbul's body that he won't know where to breathe and where to fart.
Chulbul makes a mental note. "I will use this later," he tells the goon who looks like he couldn't care less.
Neither can we, to be honest. The film is designed like a messy maidan of mayhem and mirth. In fact every action scene ends on forced a comic note, as though to say to us the audience, 'Hey you idiots, all that bloodshed that you see is just makebelieve so don't get carried away.'
We promise not to. Dabaang 3 is probably the lowest level of misfired entertainment attempted by Salman in his career. And then Chulbul has the gall to stop his mandatory hand-to-hand combat with the archvillain (Kannada star Sudeep , looking like Jaaved Jaffrey and grimacing like Pran on steroids) to lecture us on the perils of stalking and obsessive love.
Relevant thoughts, some other time. Please spare us. This is pure and unpretentious garbage.
Rating: Are you joking? Okay then *(1 star)