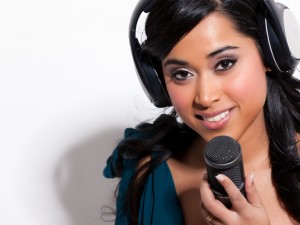 Singer Shweta Subram recently took on a very cool project. She along with Qyuki, producer Abhinav Sunil and beatboxer Prashant Nair put together the Evolution of Bollywood, which as the title suggests, travels through the different periods of the music of Bollywood. The five minute song begins with the 1951 song 'Saiyan Dil Mein Aana Re' and ends with 2014's 'Baby Doll'. What is even cooler is that the entire track is done acapella and in the words of Pitch Perfect it aca-rocks!
Check out the video!

Shweta gave us the scoop on the creation of the song, the challenges they faced mixing the different styles, the cool video and even reveals her favorite song to sing of the mix. Check it out!
First why did you decide to do this song?
Last year I came across this awesome piece of work by Pentatonix called 'The Evolution of Music'. It was a fascinating piece, and quite unique. At that time, there was no Indian equivalent of this and the idea struck me to create a Bollywood version of this.

Tell us how you went about deciding which songs you would include in this five minute number?
This was very challenging as there are numerous classics and it would be impossible to go through all of them in 5 mins. I chose songs which were popular, could easily be transitioned into and out of, and showcased a progression of music styles.
There are many different styles, syncopations and beats in the originals that you had to mesh and marry together, was that difficult and how did you do it?
It took a lot of effort to do this. Fortunately, I had a wonderful team with Qyuki. The producer Abhinav Sunil and beatboxer Prashant Nair were amazing to work with. Since no instruments were used, we had to layer many vocal tracks to create this. In total, over 200 tracks containing my vocals, harmonies and Prashant's beats were meshed together.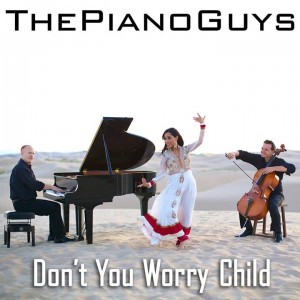 How long did it take you to create this?
I had conceived the idea in June last year after watching Pentatonix's 'The Evolution of Music'. However, at that time I was busy recording and shooting with The Piano Guys, following which I was traveling quite a bit for shows and personal reasons. I met with Qyuki in February this year and ran the idea by their management, and they loved it. The initial vocals were recorded in March, but had a couple of retakes and additional harmonies based on new ideas. The video was shot in June and the whole product came together in September.
Do you have favorite song or section in the track?
Don't ask me to choose… I love all of them! However, the piece that I get a lot of appreciation for is 'Pani Da Rang.'
What was the most challenging thing in doing this piece?
Choosing the songs and creating an amicable flow. Other challenges included creating the right harmonies, ensuring that there's a proper balance between vocals and the effects, as well as the overall mixing.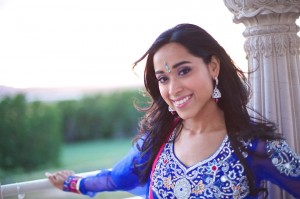 What did you enjoy most about creating this unique mix?
Just the fact that it was unique! I also enjoyed making new friends at Qyuki through this project. They were amazingly supportive of this entire project.
Tell us about the video and what went into deciding what to do for the songs and the looks of each section.
We wanted to represent each of the eras through the video, which is why I have 4 different outfits. The entire production team sat together and a thorough storyboard was done to discuss the looks and sequences. A stylist, make-up artist and video direction team were on board and they brainstormed as to what the visual aesthetics should be. We wanted to choose the best look to replicate each era. Eg: For the 1970's-80's era it was a no brainer to follow in the footsteps of Zeenat Aman who was known to be the disco queen during her times.
The reaction has been amazing, how does that feel?
It simply feels amazing! I'm appreciative of the love I've gotten for this project. I want to continue creating works that will be appreciated by the masses.
What is next for you?
You'll have to wait and watch… and it'll be worth the wait!