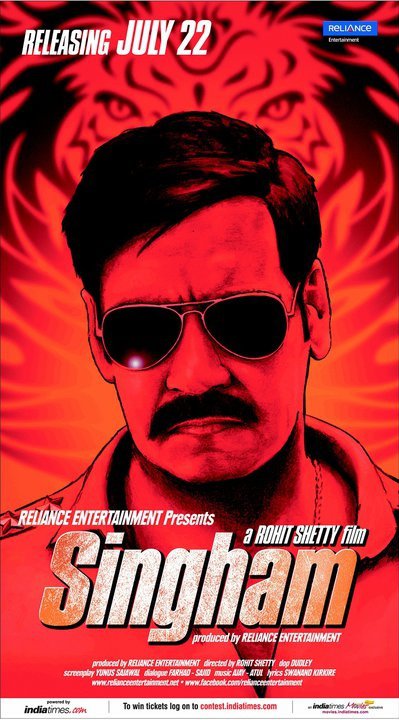 Its raining remakes and Rohit Shetty's Singham (translation: lion) is no exception, it being a remake of a Tamil film of the same name. While the Tamil version starred Surya of Ghajini fame, Singham's Hindi incarnation stars Ajay Devgn who by the looks of the promos is ready to knock some teeth in.
Award-winning Marathi music directors Ajay and Atul Gogvale, soon to be heard in Sanjay Leela Bansali's My Friend Pinto, have composed the songs. Swanand Kirkire (Parineeta and Eklayava) has penned the lyrics and Abhijet Vagnani has composed the remixes.  The album is made up of 6 songs, 3 of which are remixes of the original tracks. It feature the vocal talents of Shreya Ghosal ('Teri Ore' –Singh is Kinng), Sukwinder Singh ('Dhan Te Nan' – Kaminey), Richa Sharma ('Sajda' – My Name Is Khan) and Kunal Ganjawala ('Nana Chi Taang' – Khatta Meetha).
Singham co-stars Prakash Raj (Wanted and Bbuddah Hoga Tera Baap) and marks the return of Kajal Agarwal  (briefly seen as supporting actress in Kyun! Ho Gaya Na) to the Hindi film industry after a successful career in the South.
Singham puts is claws up July 22, 2011.
The album opens with roar, literally, in the form of title track, Singham. Sung to perfection by Sukwinder Singh, Singham musically introduces the protagonist of the film. It is a desi rock-hard number in the same line as title songs of Omkara and Dabangg. It starts on an auspicious note with Sanskrit prayers to Lord Narishma (half man half lion incarnation of Lord Krsna) and follows through with a confident and victorious melody intertwined with Sukwinder's powerful vocals which bring Swanand's brilliant lyrics to life. Atul-Ajay composed a dhol-tastic number and confirm that they are here to stay.
Alternatively, one can listen to the title track in an urban kick-ass avatar with Abhijeet Vagnani's remix of the title track. It puts a modern spin on the same number and caters for listeners who like their action –thriller soundtracks to be just that little bit sleeker. In any case, both tracks are equally great in their own way.
Saathiyaa makes way for romance after the action-packed title track. It is a melodiously sweet number sung by queen of the genre, Shreya Ghosal. Miss Ghosal is well supported by Ajay Gogvale. Saathiyaa is as soft as Singham was hard and it's a wonder that Swanand penned these polar opposite numbers so effectively. The lyrics are, for the lack of a better word, cute. In the same line as Singham, the music is quite traditional in nature and has a classical feel to it. If you like Saibo from Shor in the City, you will love Saathiyaa.
Saathiyaa also has a contemporary incarnation courtesy of Abhijeet Vagnani and provides a nice alternative to the original.  Once again, both versions are equally good.
The album's final number is Maula Maula, an urban sufi of sorts by Kunal Ganjawala and Richa Sharma. One may have heard Richa like this, but not Kunal who is mostly known for his modern numbers. This track re-affirms why he is one of the best singers in India and what an atrocity it is that we do not get to hear him as often as we like. In other news, the track's yet another brilliant lyrical piece by Swanand and features an equally brilliant amalgamation of modern and desi musical stylings of Ajay-Atul.
Abhijeet returns with yet another nice alternative version of song, but sadly it no longer possess that sufi quality the original did. That being said, it is still a decent remix and entirely listenable.
The album ends with songs from Rohit Shetty's previous films, namely, Golmaal Returns, All The Best and Golmaal 3.
In summary, Ajay-Atul have proved to be very impressive for so-called newbies. They have managed to demonstrate their versatility in the span of 3 songs. Also commendable are Abhijeet Vagnani's remixes which are very well composed compared to the ear-splitting noise that pass for remixes/album fillers these days. Swanand's lyrics speak for themselves and any word or phrase I will choose to describe them will fall short by a drastic measure, so I will refrain. It is difficult to say which song is the best as all 3 are equally good, despite how different they are from each other in terms of genre. However, with the recent successful track records afforded to sufis and title songs of Dabangg and Omkara, Singham and Maula Maula will prove to be the winners. Of course, Saathiyaa will closely follow. In short, Singham proves that quality does trump quantity.