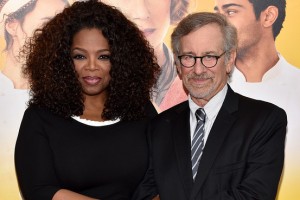 World-renowned director, Steven Spielberg, and chat-show host/producer and actress, Oprah Winfrey, have come together after 29 years to team up on their latest venture The Hundred-Foot Journey, releasing on the 5th September 2014 by Entertainment One. The film features a super talented cast, including Dame Helen Mirren, Om Puri, Manish Dayal and Charlotte La Bon and is about an Indian family who migrates to France and opens up an Indian restaurant opposite the ruthless, Madame Mallory.
Speaking about the collaboration, Spielberg says, "Oprah and I have certainly known each for quite a long time, back when I cast her as Sofia in The Colour Purple in 1985. We've always kept in touch and love talking movies and life together. Oprah's very important book club embraced Richard C. Morais' book and when Juliet Blake optioned the rights to make the film she brought it to Oprah and myself and we felt it was the perfect time to reunite on our own Hundred Foot Journey and produce this film together."
When asked about what he thinks the message of the film is and what he expects from the audience, he comments, "I would like people to see the film with an understanding that sometimes an apparent abyss between cultures can easily be remedied over a wonderful meal. Food and fusion of cultures and ideas are better accomplished in a very relaxed state of mind that can literally take place with breaking bread. In this case French bread. With a little tandoori thrown in."
The film is directed by Lasse Holstrom, who also directed the critically acclaimed films Chocolat and What's Eating Gilbert Grape?
The Hundred-Foot Journey will be releasing in cinema on 5th September 2014 by Entertainment One.