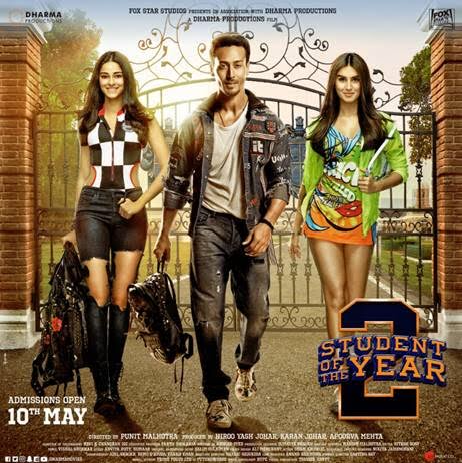 Any follow up film, especially one that doesn't take the same characters across into the sequel has a hard time finding acceptance. For those who watched the original, the questions of how will the story or new cast live upto what came before. For those who haven't the question is will this movie make it worthwhile to watch the old one. This is the complex which Student of the Year 2 finds itself in as it finds a place in Bollywood, maybe even replacing its prequel. It would be hard to state that Tiger, Tara and Ananya would be as strong a combination as Siddharth, Alia and Varun but in 2012 no one knew what these 3 were capable of so only time will tell. Produced by Karan Johar, no expense has been spared on music directors with superhit teams Vishal-Shekhar and Salim-Suleiman being asked to provide the 6 songs that make up this album.
Vishal Dadlani and Payal Dev come together to sing the opening song The Jawaani Song. This is a mashup song of a big band swing song which could be either opening or closing song spectacular with an old all-time classic "Yeh Jawaani Hey Deewani" lovingly sung by the late Kishore Kumar seemingly over tape recorder. The mashup is well worked with no sign of either song being overridden at any stage but also finding a neat line which divides the new from the old. Why Vishal-Shekhar chose that particular Kishore hit is not clear as the song could have easily been a fun, loud spectacular without it but it does seem to increase the fun to a new level.
Dev Negi and Payal Dev come together in Mumbai Dilli Di Kudiyan to let the listener know that girls from these two places never sleep. A club beat with mixed synth gives this a hip hop feel. The lyrics and the brass on top give it a bhangra beat. If it wasn't for Tiger Shroff, this might have been any Salman Khan song of the early 2000s. The song itself has nothing new in it whatsoever but is likely to be a hit with vivid colours and livewire moves making this song another fun spectacular. From the clip on Youtube this feels more like a resolution song with everyone in shot seemingly happy that everything is neatly wrapped up.
The Hook Up Song had to be cool so Shekhar Ravjiani joins Neha Kakkar in this Punjabi-Carribean mashup. The song's limited lyrics are practically all in Punjabi except for the song title lyric "Mujse hook up tu kar lena" while the beat is very club Carribean with soft drums, synth xylophone and electric guitar. However, in delivering all these the singers do seem to be the wrong ones chosen, Neha bringing her bright voice and Shekhar not matching with is deeper, more cultured one. The video delivers a lot of smooth moves, a lack of clothes, a guest appearance by Alia Bhatt and a lot of bright colours to hide the fact this song has nothing at all going for it.
Fakira brings Sanam Puri together with Neeti Mohan for a return to DDLJ but with a sad twist. The singers stand above a banjo, drums, jazz guitar and tabla for a fusion Hindustani touch. The lyrics are again pretty much completely in Punjabi but since it is a sad song, no English has slid through here: "Tu puchh nahiyo haal fakira da". Also significantly longer this is very much more about telling the story of a love story going sour through distance being forced upon it.
The longest song however goes to Main Bhi Nahi Soya, a special from Arijit Singh. Continuing down the Punjabi path, anyone not familiar with the Punjabi language may need to find a translator for some of the lines. However, this song has good reason employing a sarod and acoustic guitar as its main melody instrument, clicking fingers and soft drums acting as rhythm. No one is sleeping well in this song and its repetitive nature tries to burrow this idea into the listener's mind. Arijit is given full license with the music reducing and even stopping to allow his masterful voice to take full control of the song but neither is this a tissue box song and neither does it have the anger of a breakup or distance song. It seems all the lyricist had to go on was that no one would sleep.
This album ends with a return to Vishal Dadlani and Payal Dev in a pure club hit with Jatt Ludhiyane Da. To give it a 2019 feel, there are plenty of hashtags being thrown about, otherwise this is a fairly standard 'disco bhangra' mix. Not much to say about the song as it doesn't seem to take itself too seriously. It will give plenty of chance to dance with its upbeat feel, a couple of rap breaks to satisfy the hip hop crowd and some smooth verses that seem to glide by.
From the trailer from this movie, a few things can be quickly gleaned: there will be a lot of dance and a lot of action, there will be a plain but serious dancer and the cool but rowdy rich achiever. Everyone knows what they want to achieve and how far they are willing to go for it. For these reasons, the music of this film only needs to remind listeners of the performances that accompany them and the dialogues that introduce the particular scenes that they back. To that extent this album couldn't have done much better… where fun is expected, it has been delivered (as long as you are Punjabi or fluent in Punjabi) and where there needs to be introspection, this is also found. But listening to each individual song or even as an album as a whole without the aid of visuals, it would be hard to work out what the story was about or where it was going. In the case of the Hook Up song for instance, the scene could be set in Barbados or in a bedroom as part of an elaborate dream sequence. Thus, this is an average album, not bad but not memorable either.