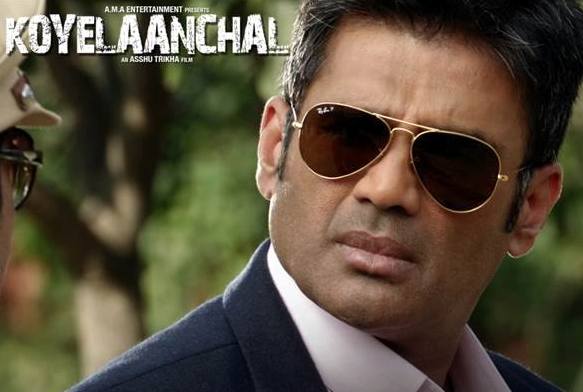 From 'Balwaan' (1992) to 'Koyelaanchal' (2014), Suniel Shetty has pretty much seen it and done all, especially when it comes to action films. From playing a larger than life Mr. Muscleman in his debut film to enacting the part of a thinking IAS officer who never once flexes his muscles, Suniel is looking at a new innings in his career.
So, what does he look for in a role today?
"To enact a strong characterization," pronto says Suniel, "I am not here to be a crony of someone or play a sidey role. This doesn't mean that I am longing to do only a central role. It could be a second lead too; that's fine as long as it has the punch. I know for sure that regardless of commercial success or failure of 'Koyelaanchal', I will get good appreciation for my work. At this stage of your career, this is what you long for."
Apparently, the actor is playing mind games in the film instead of beating the pulp out of goons. This appears like quite a shift that he has gone through 22 years after his big screen debut.
Laughs Suniel, "It was indeed different to play this desperate IAS officer who has a job in hand to change the way things work. When he encounters mafia, there is certain desperation that comes in him, more so because he also has a child and a wife. He can't even get into the action mode since the story has been narrated realistically and this character isn't someone who starts beating people. It was a challenge to change my body language and do something that is totally different from what I am known to do."
We would love to see that in action once 'Koyelaanchal', which has been produced and directed by Asshu Trikha, releases all over this Friday.
Joginder Tuteja tweets @tutejajoginder