There isn't much you have to do when you are taking on board the task o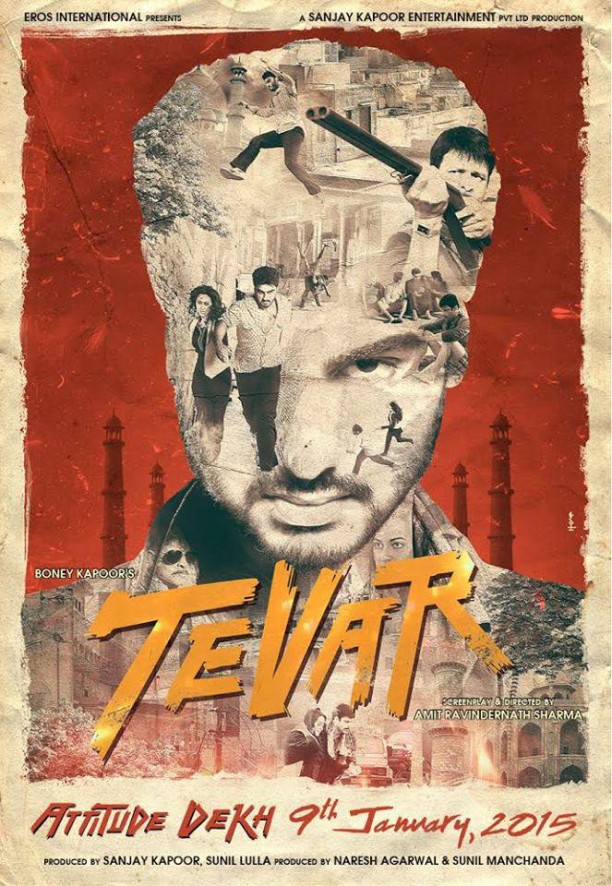 f remaking a blockbuster. Sure you adapt it for the new audience at hand but ultimately there's a reason you chose the blockbuster to remake, because it was pretty damn good. So why then do you claim to make a remake of a blockbuster but decide to ruthlessly suck out the very soul of the original script?
Amit Sharma takes a perfectly fine family entertainer and turns it on its head. He sidelines the two leads and instead chooses to flaunt his love for the villain instead. Yes, what Tevar has promised you was all a grand lie. The film in fact is not about a young kabbadi player (Arjun Kapoor) and a damsel in distress (Sonakshi Sinha) on the run from a ruthless goon (Manoj Bajpai) but in fact in Sharma's mind the film is the tragic tale of a ruthless goon who loses his love to a small town kabbadi player. How else do you explain the fact that for every 15 minute scene that Manoj Bajpai has, Arjun and Sonakshi get 5 mins. To add to that Amit takes the 2003 Telugu film and turns the clock back on the script by 23 years. You have cliched one liners, unrealistic fight sequences and believe it or not, a villain who refuses to wear his pants until he wins the girl. No we are not kidding about that last part, be brave and see for yourself!
Tevar ends up being the grandest of disappointments for multiple reasons. Firstly, a perfectly entertaining original script with just the right mix of genres for a commercial pot boiler, which is what the makers were aiming for, is completed destroyed in its adaptation. Secondly, an actor like Arjun Kapoor is pretty much put to shame onscreen with a wafer thin character sketch and that too in a home production. In fact wafer thin writing is perhaps the accurate way to describe the writing in general for Tevar. You're not rooting for the damsel to be put out of her distress, you're not feeling the romance, you're getting sick of the villain's slow-mo walks and the melodramatic music that accompanies and you're just plain tired of ill timed song intervals.
Arjun Kapoor grasps with both hands at the very minimal scope he's asked to work within. You walk out of the cinema hall feeling like you hardly saw the actor. He's either busy bashing the goons or singing a song, uttering lines was just not on the agenda. Nevertheless he is the primary source of entertainment value of the film and no doubt the saving grace of the film. Sonakshi Sinha on the other hand simply couldn't be bothered with this film. She sports all of 3-5 dumbfounded expressions throughout the film. Given that one of the highlights of Okkadu was the very  subtle yet powerful chemistry between Mahesh Babu and Bhumika Chawla but sadly the jodi of Arjun and Sonakshi comes no where near to competing with that. In fact chemistry between the two is non-existent, definitely not what you want for a film which was originally a romantic road film of sorts. Coming now to Manoj Bajpai. He's no doubt an impressive actor and even does an insanely ridiculous scene such as the many he was given in Tevar with amazing gusto however it is of little use when the character is misplaced and incorrectly utilised in the story. You're pretty sure this is a movie about Pinto and Radhika but instead its this Gajendar Singh fellow that is shoved down your throat every other scene.
The silver lining that keeps you somewhat engaged in Tevar is Laxman Utekar who paints such beautiful imagery with the most mediocre of scenes. Apart from that, Tevar has Arjun's distinct charm to offer. Ultimately this love story between Amit Sharma and Manoj Bajpai ends up costing everyone involved a film that could have been every bit as impressive as its original.