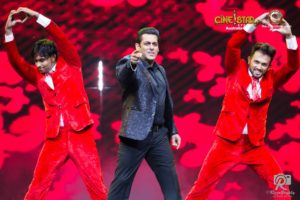 There is just something magical about seeing your favourite celebrity perform live for you on stage. There is this connection as they dance sing or even just speak on stage that brightens up the night and mesmerises us. Now add in 5 big names on 1 stage and you get the Da-Bangg Tour.
The night began with a dance performance by Shiamak Sydney Dance Troupe to get the beat bumping. A medley of new and old tunes including 'Tamma Tamma' and 'Laila Main Laila' was well received, but after starting late, the audience was itching to see their beloved stars.
Then came Manish Paul in his only solo dancing routine for the Dabangg intro song. Not quite a theme song but he introduces everyone to arrive on stage like pre-performance hype. It seemed like he would be the weakest link to the whole night. Yet the host/actor doesn't disappoint. He made his presence felt amongst the audience as he joked and asked questions for fun.
Next up Daisy Shah with a remixed dance medley including her own 'Naacho Re'. The dancer truly shone as she moved with ease to flashing lights and pumping beats. Even if you knew she wasn't the dancer in original clip, she made it her own and moved with the crowd.
After a short interject of an AV, Bipasha burns the stage with her hits 'Bipasha', 'Race Hai' and 'Beedi Jalaile'. Adding to the fun was a lovely gentleman who snapped up the chance to dance with the dusky beauty for 'Lucky Boy'. Pretty sure Manish wanted to be the lucky one but instead settled for a quick chat and dance lesson from Bipasha on stage. Lots of love is showed by the audience before she leaves for the next performer. Manish hypes the entrance but when the stage clears, and a lone figure walks out on stage, you realise there is little justice to the talent that has arrived. No, it isn't Salman Khan. The man forever referred to as India's Michael Jackson, Prabhu Deva has arrived and man does he deliver. We are treated to a solo initially then come in the background dancers. So much energy and movement, you can't help it as you either bop in your seat for entire set or you gaze mesmerised. Great to see he keeps his Hindi and Tamil fans happy by mixing up the songs for his routine including his latest 'Chalmaar'.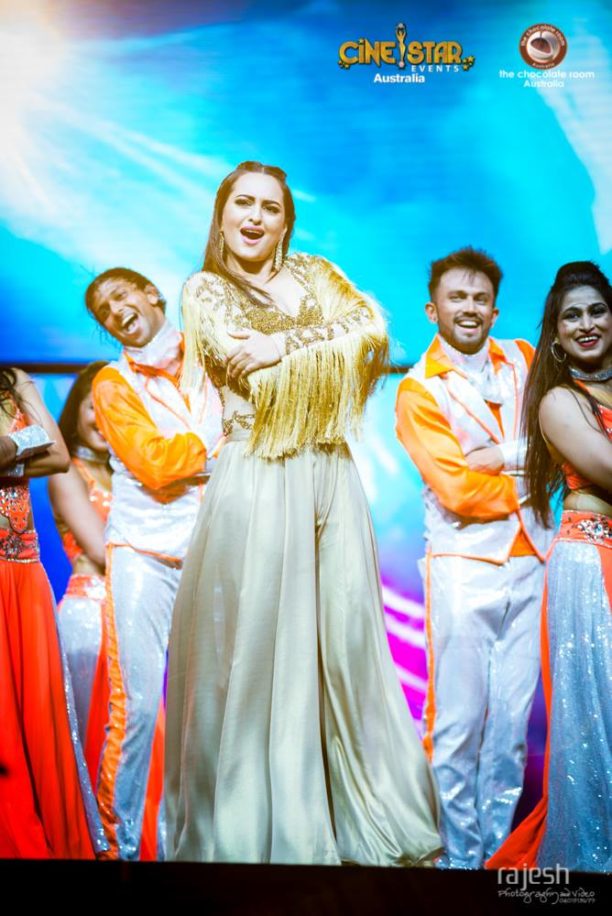 The next performer to make a flaming entrance (literally) is the patakha(firecracker) princess Sonakshi Sinha. The audience is going berserk as she sparkles her way through a remix medley of songs. If it weren't for the background dancers, you would have thought she was just having a party with all her energy. We even get a chance to see her perform a few songs from her latest movie Noor as a special treat.
Okay, so we have had pretty much all the actors and while everyone is pumped and/or laughing because of Manish, the crowd want their Saajan. I mean he isn't the Sultan of hearts for nothing. So Manish brings Sonakshi back on for a chat, we get the having a good night (our answer is of course yes) and she gives a hand at introducing the Bhai of Bollywood while Being Human. The ceiling stage lowers and the crowd erupts. From Maine Pyaar Kiya to Sultan, the famous lines reverb as the sparks fly. Screaming and jumping people all over the stadium. Clearly they were waiting for this moment all night. Salman Khan gets straight into his set. A solid 10 minutes of snippets music and mayhem.
Now we wouldn't have a show with the obligatory thanks. Manish tries to get in a few good words for the sponsors but the focus had shifted so it was hard to concentrate. And Salman is urgent to get backstage. Every eyeball in the crowd was fixed on Salman. Perhaps this was the reason one could notice the man who charmed his way into our hearts on film seemed a little pasty. Perhaps he wasn't well or maybe it was the lighting. Yet when Salman took the mike, he held everyone's attention with tender control.
You would be hard pushed to remember there was yet another celebrity to come at this point but you would not forget him once he took the stage. Baadshah made a splash with his mini crew of 3 as he introduced himself and the others, got people dancing interacted with the audience. Even getting the audience to sing along and pit one side against the other to keep the spirits high. His group sang a combination of songs from 'Saturday Saturday' to 'Break Up Song' to 'Humma Humma', sticking to film songs than his album tracks.
The clock ticks but the crowd did not let up. They want more. It was time to get back to dancing mode and who better to get everyone psyched about dancing than the duo of Prabhu Deva and Sonakshi. Bringing back 'Go Go Govinda' from earlier in the night and dance offish style routine of Tamil 'Humma Humma' vs Hindi 'Humma Humma' (2017 version), Sonakshi and Prabhu deva were a sight for bedazzled eyes. It was impossible to capture the magic from where we sat. But we felt it and were amazed at these performers.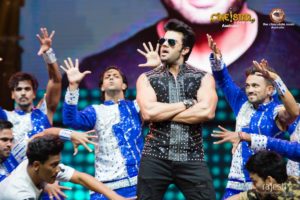 Time to announce the winners of the meet and greet contest. Manish is in full form, doing some great comedy, even if the random movie debut contest added was well… random. Salman seemed to enjoy Manish's antics as he laughed with the audience as well. But it was time to perform again so to add a bit of Salman special, the Tere Naam actor performed to a set of his own film song and sung for the show audience! As Manish described it, it was Salman at his romantic best exclusively for the tour. *cue melting heart* The Maine Pyaar Kiya actor swooned us to his renditions with Daisy, Sonakshi and Bipasha coming in for a little duet style dancing. And then a few more on his own. The highlight would have to be the final track of 'Jag Ghoomeya' as Sultan replicated his signature move from the song. Totally adorable!
Okay it's definitely past time but Baadshah is back to fire people up for the climax. His set swings into action with a live exclusive of 'Move Your Lakh Baby' from Noor and a few more remixes but not without his now signature 'Make Some Noise'. And like the mice following the pied piper, the audience does just that and more. We quickly move onto the last dance routine. Each artist comes on one after another, doing a couple of lines and mixing it up with full gusto. Bipasha bringing back her 'Mehbooba' moves and more exclusive as Sonakshi dances to 'Gulati' from Noor. At this point it looks like Salman must have taken some tonic as he is moving like magic, doing dance numbers from Dabangg, Wanted, Judwaa, Kick and so many more. But it wasn't just individual acts anymore. We get a finale treat with Prabhu Deva and Salman Khan joining on stage together to dance for 'Jalwa'. Sonakshi joined them for a 'Mujhse Shaadi Karogi' routine that had most in splits. Daisy, not to be left out pumps up to 'Yaar Na Mile' and 'Photocopy', with Salman stepping in and out in between. Bipasha and Manish stepped in as well to keep the rotation constant.
Then we see everyone come on together to strap in for one last ride on the ceiling stage for the Da-bangg tour members and for the audience, waving their goodbyes, blowing kisses and leaving us wishing for more.
I don't know if Melbourne and Auckland got the same show but it was truly a spectacular affair. One that show have been seen to be believed and experienced.
This slideshow requires JavaScript.