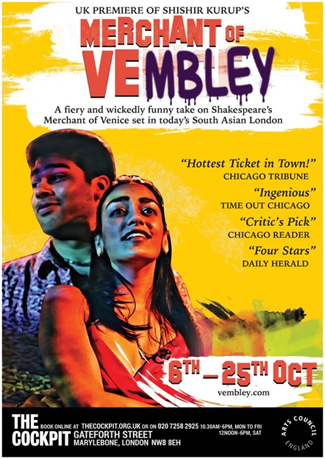 The world of Bollywood and the works of Shakespeare have an igniting connection. Oozing with Othello's jealousy and a love affair gone sourly pear-shaped, we have Vishal Bhardwaj's Omkara (2006).
Then there's the obvious Romeo and Juliet. The star-crossed lovers are a favourite pair amongst Bollywood. The tragedy has churned out flicks such as Bobby (1973), Qayamat Se Qayamat Tak (1988) and the more recent Goliyon Ki Raasleela: Ram-Leela (2013).
The surefire combination of Bollywood and Shakespeare now comes through The Merchant of Vembley, a stage play set in London's North Wembley and perfomed at The Cockpit, London.
If you have never been to Wembley (or even if you have), close your eyes and picture delicious samosa's selling in the high street. Then visualise every Asian aunty and uncle on the street and of course, that Indian shop that sells 50 different types of achaar (pickle).
Yes, we are in Wembley!
There is the football stadium of course but for some, Wembley is the home of culture clash, the strange world of confusion and delight experienced by both Asian parents and their British offspring.
So, it is clear.
The soil of Wembley is fertile for exploration and primed to sow seeds of crisis. Seeds which may bloom (hopefully) into realisation.
Taking this dizzying mix and adding not just Bollywood but Shakespeare is Shishir Kurup who brings to stage The Merchant of Vembley.
The Merchant of Vembley pivots on Hindu-Muslim struggle for power and explores a multi-cultural society harvesting tales of forbidden love. Sadly inevitable in today's world is also prejudice, a theme explored in the play.
One asks, is there a way around prejudice? Is a happy society, a happy world just a myth? Perhaps the play will delve into this – but I'm not expecting the answer to be black and white. It surely will be interesting to see how this theme is tackled.
The play unfolds with Bollywood dropout Jeetandra setting his sights not only on Hollywood but Pushpa, a loaded Gujrati heiress. Then comes Jeetandra's best friend Devandra. Throw in the villain Sharuk, some unsettled bills and an ever-green arranged marriage and there we have it! Shakespearian tragedy and Bollywood drama!
This play certainly promises to be an exciting watch.
Music.
Music is the backbone of Bollywood thus how can a Shakespearian Bollywood play be devoid of music?
Wickedly funny and written in iambic pentameter, The Merchant of Vembley reflects the multi-cultural diversity of Wembley through music: rock-n-roll and Bollywood as well as the dramatic blank verse, video and pop-references.
Indian, American and Afro-Caribbean jargon will bring to life characters giving the viewer an insight into today's multi-cultural London and South Asian diaspora.
Clashing cultures can be painful but also the perfect soil for one to truly find their roots. Will ex Bollywood boy Jeetandra fly back to Mumbai? Will Pushpa find true love? Will the best friend come through. And indeed, will the villain have a protruding mole on his right cheek (aka. Jivan the original Bollywood gangster)?
Visit The Merchant of Vembley to find out!
Website:  vembley.com
Twitter : @merchantvembley
Facebook:  facebook.com/merchantwembley
Creative team:
Directed by Ajay Chowdhury
Design by Sean Cavanagh
Lighting Design by Ben Cracknell
Video by Louise Rhoades-Brown
Cast
Jarreau Antoine – Armando (Lorenzo in Merchant of Venice)
Shamir Dawood  – Jeetendra (Bassanio)
Mikhael DeVille – Amithabha (Gratiano)
Emilio Doorgasingh – Sharuk (Shylock)
Vijay Doshi -Yogananda (Salarino)
Rohit Gokani – Devender (Antonio)
Anil Goutam – Shivananda (Salanio)
Taj Kandula – Kavita (Nerissa)
Ishwar Maharaj – Tooranpoi (Lancelot Gobbo)
Aria Prasad – Pushpa (Portia)
Ambreen Razia – Noorani (Jessica)
Tuesday 6th to Sunday 25th October
Tuesdays to Saturdays – 7.30pm, Sundays 2.00pm
Tickets:

Full price: £17.50 Concessions: £13.50