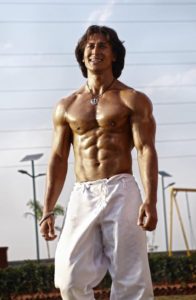 He is playing a loveable Sikh superhero in his next release A Flying Jatt. While all eyes are on whether Tiger Shroff would set a hat-trick of hits after Heropanti and Baaghi, the young and shining star recently showed that he is a hero for animals and human beings alike. Yesterday (29th July), on the event of International Tiger Day, he sent a letter to Environment Minister Anil Dave. There, he urged the Minister along with PETA India, to ensure that Government focuses on protecting tigers in their natural homes.
"Tiger Shroff truly feels that tigers need to be in their natural homes where they have ample space to roam, spend time with their families, and engage in other natural behaviors. Above all, they are the most protected there," informs our source.
While Tiger is trying to protect folks in Balaji Motion Pictures' A Flying Jatt through his funny antics, he is dead serious when it comes to protecting tigers in the country.
"Jackie Shroff is an ambassador for People for the Ethical Treatment of Animals (PETA ) India. Now Tiger is following his father's footsteps and trying to do something for tigers," the source continues, "What better way to fetch attention to the burning issue on the event of International Tiger Day by the man who is namesake and has a superhero film releasing in a few weeks from now."
This isn't the first time when Tiger is doing something for the animals. He is also known to have adopted a tigress in the zoo. With his recent plea, he has also joined a growing list of celebrities who are associated with PETA. Other than dad Jackie Shroff, Tiger has been inspired by celebrities like John Abraham, Aishwarya Rai Bachchan, Virat Kohli, Sonakshi Sinha, Jacqueline Fernandez, Madhuri Dixit and Raveena Tandon who have teamed up with PETA.
Said Tiger in his letter, "I know environmental issues are important to you, as they are to me. I join my friends at People for the Ethical Treatment of Animals (PETA) India in hoping that under your leadership, we will see the government focus its conservation efforts toward protecting India's remaining forests and bringing in additional measures to safeguard tigers and other animals in our precious jungles."
While his A Flying Jatt releases on 25th August, one looks forward to the impact that Tiger's voice in favor of tigers manages to make in days to come.