One of the new films currently in production we find very intriguing is Tumhari Sulu which marks the interesting first-time pairing of Vidya Balan and acclaimed theatre actor, Manav Kaul. We have some fun news from the set.
Vidya, who is known to be the life of a set and has an impeccable sense of humour in real life, did everything possible to put an otherwise shy Manav at ease. She was quick to break the ice and began pranking Manav including teasing him from time to time about how he was thoroughly enjoying his single status. In no time, Manav warmed up to Vidya and their terrific screen chemistry became the talk of the set. The joke between them was about Manav's "khidki" being ever "open", naughtily suggesting his availability to women.
Vidya gave Manav a big surprise by making a special black t-shirt reading "Khidki Always Open". Manav was in splits and wore the T-shirt immediately after giving Vidya a tight hug. Taking the message on the T-shirt quite literally, she made him the pose from the window of her make-up van. This is one 'khidki' Manav may never want to close!!!!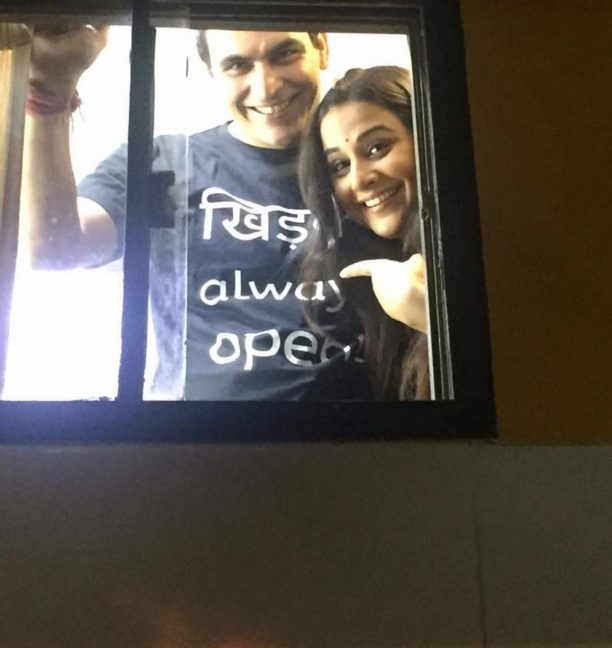 In what producers are called a gem of a script, the film was crafted for Vidya Balan. About her role she said earlier, "Sulu is like that nimbu… you add nimbu for taste or then add it to balance taste; zesty & versatile! I think she'll unleash my naughty side."
Noted ad filmmaker Suresh Triveni, whose TV commercial has just won a Gold at a recent advertising award, has been thoroughly enjoying his maiden journey as a feature filmmaker. So much so that he dedicated the film's clapper board to his "awesome team". The part of the clapper board usually reserved for the makers was credited to the entire team instead, implying that 'Tumhari Sulu' would be a product of real team work.
Triveni has gone one step further to ensure that the behind-the-scenes team comprising the light men, camera attendants, spot boys, interns etc are acknowledged on his and the producers' social media. "The guys behind the camera are the unsung heroes. Putting up their pictures regularly on our social media accounts is a small way of acknowledging and appreciating their immense contribution to our film," smiles Triveni.
Watch this space for more!