On Friday, November 17th, Vidya Balan will hit the big screen in Tumhari Sulu. A slice of life film, it tells the story of happy-go-lucky, enterprising and enthusiastic Mumbai housewife (Sulochana a.k.a. Sulu – Vidya Balan) who unexpectedly lands the job of a night RJ (radio jockey) on a leading radio station. What follows is a lot of comedy, laughs and drama and more.
At the helm of this exciting film is noted ad filmmaker Suresh Triveni who is making his debut as a feature film director. The film also features performances by Manav Kaul, Neha Dhupia, and Malishka RJ.
First let's set the stage with trailer to give you an idea of the world of Vidya's Sulu.

Occasionally during certain interviews, there are times that you throw out your list of questions and go with the flow of the conversation and that happened with Suresh Triveni. In a fabulous, honest and open conversation the director let us in on his passion and excitement about Tumhari Sulu.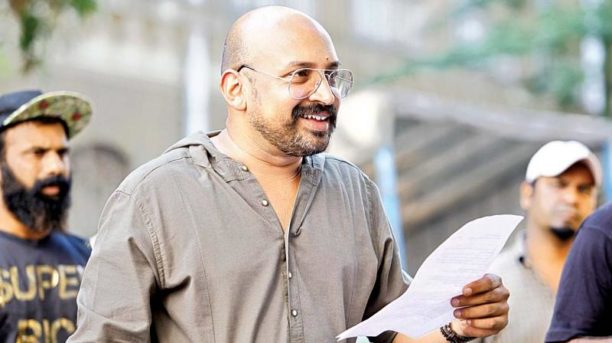 Is directing and being part of films something you always wanted to do?
Yes, I was very fascinated with films from a young age. I didn't know that I would end up in direction. There is this very famous Indian director called Mani Ratnam. I am huge fan of his. I remember that that there was a movie called Bombay that came in 1995. When I saw Mani Ratnam's film something just felt like this is something that I want to do. It was a very latent thought. Later on I worked towards it in a very focused manner. I am not a film grad. I am not someone who has studied anywhere. I have just learned my craft slowly, slowly over the last 14 years.
Tell us about the inspiration for Tumhari Sulu.
I have always wanted to work with Vidya Balan. I am not exaggerating, I really thought she is a fantastic actress and I was always fascinated with the kind of roles that she does. Honestly, it was on my bucket list that I wanted to work with her. When I got an opportunity, a window to meet her and narrate her certain ideas I didn't want that opportunity to go. So to be really honest Tumhari Sulu has been handcrafted and written for her. The inspiration has been purely Vidya Balan and her talent.
At a plot level, I like conflicts. I like simple conflicts. I am the old school cinema person who likes the idea of conflict. I just liked the dichotomy of a middle-class happy housewife who stumbles into a late night radio jockey job. That dichotomy really interested me. That is how the entire idea emanated. I just wanted to break certain clichés about how wives are portrayed. I wanted to break some clichés about people have certain judgments about late night and all that. I just got very fascinated with it and with some one like Vidya who picks up challenging roles. Currently in Hindi cinema a new age is coming out and that has made great things for all of us.
If I had to put it in one word Stacey, I wrote this and I directed this purely to work with Vidya. It's as simple as that.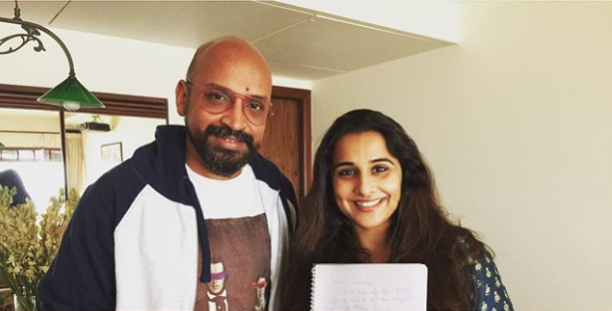 When I talked to Vidya, she said that it was one of the best scripts she had read and that it was an amazing experience on set…how does that feel for you to hear that especially with her being the inspiration for the whole film?
I think it was one of the most surreal experiences ever. Imagine for the longest time that you wanted to work with her and then over six months you are discussing some other project, then in the seventh month I kind of shelved that idea and wrote a new one. I remember it was February 4th, 2016, and I went and narrated it to her and the moment I finished my narration she said, 'Let's make it'. I said that 'No, I don't believe it, you should write it on my script'. So she wrote on my script – 'let's make it'. I couldn't believe it! I mean if dreams were to come true on Feb 4th on a weekday when everything seems very normal outside, you know I felt very cheated. When I walked out I thought everything should go 100 frames per second, life becomes slow and there should be a background score, but that was not what happened. Really it was the most surreal experience ever. It's like you want to work with your absolute screen idol and your idol says okay fine let's make it. Then now what! Now you have to make it. I am blessed that an opportunity like that came and the kind of response that she gave – I don't know it is just surreal. I will cherish it for a lifetime!
She really is, from my few interviews with her, such a warm and wonderful person…
Yes! She is a gem. The kind of energy that she emits Stacey…. I truly believe that on a set when you are working you need actors but you also need great human beings because eventually it is about energies being exchanged. I call her a Rockstar by the way. I am just so fascinated with the kind of positivity that she walks in. It's unbelievable. The undying passion for the medium she has I think it's unparalleled. I am a first time feature filmmaker. She has done so many films, but never on my set did she make me feel like I am a newcomer – at least to a long format. She is amazing. All the bucket lists that I have of how she should look, how she should smile, all of it… all the bucket lists are done. If I had the chance I would work with her again immediately. She is just a fab, fab actor! Fabulous!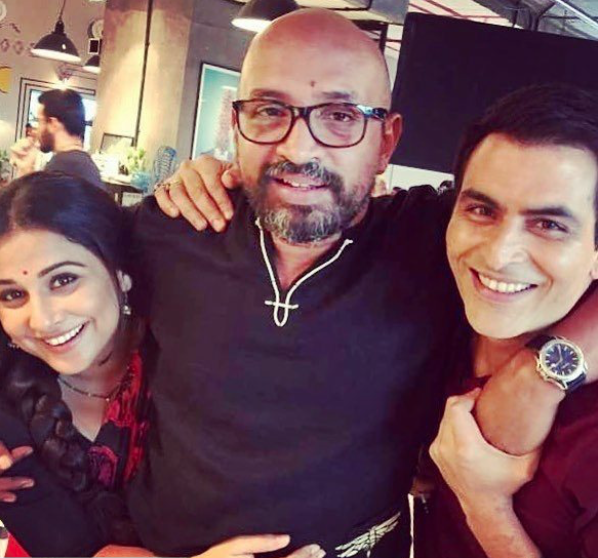 You also had Manav Kaul, tell us why you cast him and what it was like to work with him.
I will tell you the male lead was a very, very tough call because we needed an actor, and when I say actor I mean we wanted someone who would stand up to a performance of Vidya Balan. We also wanted someone who's vulnerable and someone who understands nuances. It is very difficult to get such a mix in that age group. Manav, to be really honest was a tough choice for me because he does play a lot of negatives, and this is not a negative character; it is playing a middle class Indian. But I should say if I had not gone with him it would have been my biggest blunder because he gave everything. Manav's best part is that is he a writer and a thinker. He is not just an actor. He has directed films also. He is one of the most known theatre personalities in this country. When he walked into this role he humanized it. See, this is something I feel very strong about and both Vidya and Manav did this. See, you write the character and however good it might be on paper, but, you know, that is where these, I would call them superlative actors, they just came in and they humanized it.
I will give you a very, very small example. I had never did a reading with Manav; I only spoke with him about the character. We would sit in a coffee shop and for hours we would only discuss the back-story of the character and discuss the character. You know we never read lines, we only read the lines around the workshop for a couple of scenes. The rest was behaving and that is something, which he added so much to this character called Ashok. That is who he is. I will be obliged for a lifetime. I am sure Stacey, though people will say good things and bad things about films, I am sure that Manav will be noted in a new avatar. For sure!
I was blessed that I had a wonderful set of actors who were only working towards the film. Thankfully Vidya and Manav had such great rapport, which really worked. There are certain things that I can promise you and one is a brilliant performance by Manav and Vidya.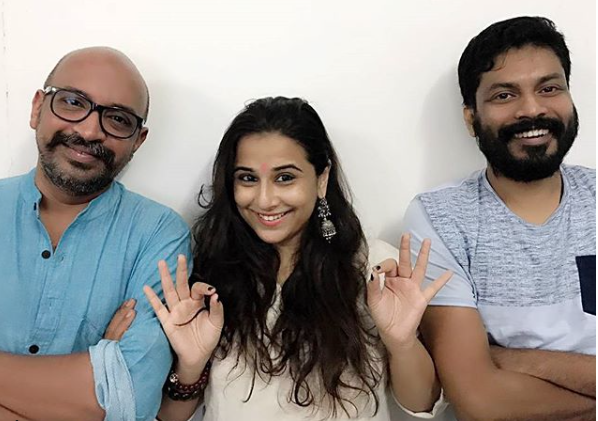 I have heard that a film is made in the editing stage especially because I know you do many takes, would you say that to be true?
Yes! I have been doing advertising for the longest time and I call the edit room a confession box. So, there is a priest sitting there who is the editor, so just go and confess whatever you have heard and all the wrongs you have done (laughs). The good things you will always go to heaven for. I look at it as the confession box. Actually I have various metaphors for the edit. Like for example if you go to a high altitude place, like if you go to Alaska, for the first few days you acclimatize, at first you are not able to breathe. It is exactly like that when you go and see your footage – then you are kind of like 'Oh My God, Oh My God I am not able to breathe'. Then in some time you kind of get used to it and then suddenly things start looking beautiful. Oh nice, this kind of works! Sometimes you fall a little because you know, oh I kind of walked on the wrong subtlety. So editing for me is definitely a place that shapes the film, it kind of helps you giving a direction to the film. Thank God for editing! I had a fabulous, fabulous editor called Shivkumar Panicker. He's edited one of the most beautiful films of our time called Kapoor and Sons. I learned two things from him: He said, "If you are showing what you need to hear – if you are hearing it, why do you need to show." I can go on and on about editing.
How do you create the music for a film like this and how does you know what you want?
I read somewhere that Quentin Tarantino, when he has an idea for a film he first hears a piece of music and then goes about the plot. I strongly believe in this. See for me every narration that I do, I would start with a reference music piece that would set the mood. Music matters the world to me. For this film I had backing by a company called T-series. I had an assorted set of musicians and singers when it comes to playback singing. For the music, one is the cult Hindi song which is 'Hawa Hawai', the rest are all originals. Since radio was a medium in the film we tried to make the music in terms of that and so you will have all sorts of genres. But what you should look out for when you watch the film is the background score! I promise you we will have something very fresh when it comes to the background score. There is a wonderful musician called Karan Kulkarni who is working on it. I can promise you a fantastic background score and something that will be fresh.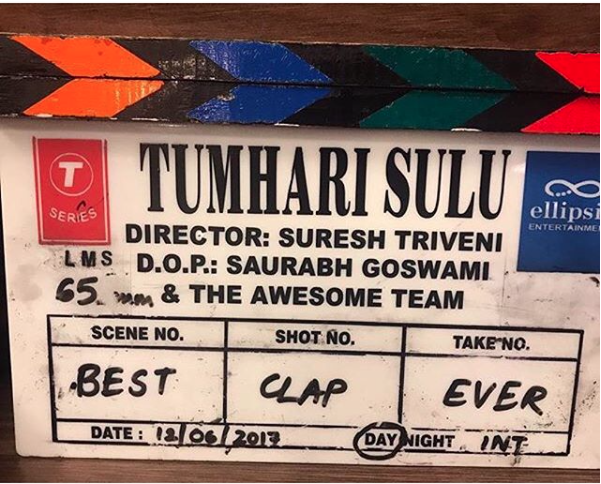 Are you happy with the film?
I could not have asked for better. I am not being diplomatic about it. To be really honest when I walked into my debut feature film people told me a lot of wrong things, that that will go wrong – this will go wrong. All those myths and all that negativity they talk about in the film industry – I never faced all that. Ellipses and Atul (Kasbekar), Tanuj (Garg), Shanti (Sivaram) – the kind of producers I have got, fabulous! We believed in one thing: saying that yes, we have limitations and we are working in a certain amount of days, but let's be happy and make it. I am not just saying it Stacey. Whatever the outcome of the film, whatever happens, this team – I won't trade it for anyone else. My director of photography Saurabh Goswami, my production designer Dhara Jain they have gone more and beyond. I wish someone came to our set and saw it. I had a ball! I believe in one thing, Stacey, if you are giving one year of your lifetime and if you are asking for one year of a lifetime from a team the least you can do is have a good time.
Vidya said that too, she told me in the interview that it was an amazing experience and a joy to come to work everyday and that the entire cast and crew felt that and were invested in the film.
We decided come what may let's not have bad behavior on set, let's not get into unnecessary arguments. Let's try to make a good story and with that everyone went out of their skin to do their best.
Mani Ratnam has this wonderful quote, "You should always hire a team that is better than you," and I believe in that. I had a fabulous team, a hungry team. My direction team was fabulous, they were not there just doing a job. I won't allow it to be just a job. It matters the world to me. It has been very, very fulfilling.
It was absolutely fabulous to talk with Mr. Triveni and I would like to thank him for the great movie chat. I look forward to seeing Tumhari Sulu come to life on the big screen and seeing more films from him in the future.
Be sure to check out Tumhari Sulu on Friday.
Also be sure to read our amazing interview with Vidya about all things Tumhari Sulu.