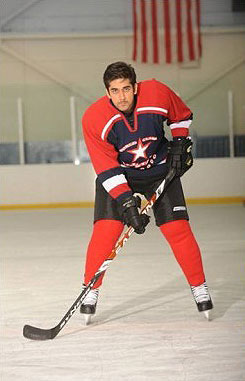 The new movie, Breakaway, also being released as Speedy Singhs, is not only the acting debut for the young Vinay Virmani, it is also his first credit as screenwriter. The film is a drama, a comedy, a sports film, a romance with a infusion of Bollywood magic that Vinay says he thinks will appeal to audiences the world over. Taken from his own life, he has crafted a story about a young twenty something Indian Canadian trying to find his place in the world and a place in the national sport of Canada, Ice Hockey. The story follows Rajveer Singh, a 21 year old who aspires to play professional hockey and is struggling to succeed in a predominantly white man's sport. Facing prejudice from his peers, he decides to assemble an all-Sikh hockey team called 'Speedy Singh' and these talented young men begin a challenging journey of social acceptance and ethnic assimilation, while still retaining their proud roots. However, further conflict arises for Rajveer at home as his orthodox Sikh father (Anupam Kher) wants him to dedicate his life to the family business and the Sikh faith. Caught at the crossroads between family duty and following his dreams, Rajveer prepares for the biggest challenge and game of his life. Produced by Akshay Kumar and directed by Robert Lieberman, the film boasts an all star and international cast that includes Rob Lowe, Camilla Belle and Anupam Kher. Vinay was kind enough to sit down with us and gave an in-depth look into his first film!
How Breakaway came about
About 2 years ago I had this little story in my mind inspired from elements in my own life, people that I had come in contact with, my friends, and my love for ice hockey. It was at a point of time in my life where I had just come back from New York and basically wanted to do something for myself because I was auditioning…I was reading scripts and wasn't really connecting to anything. My dad gave me some great advice. He said, "How would you want to see yourself if you were to, you know, write a movie for yourself?" That really inspired me as when Stallone kind of wrote Rocky for himself or Matt Damon did something for himself with Good Will Hunting. But you know, when I wrote this film I never even knew it would be a film. I thought maybe it would be a character study or maybe it would be a short story or whatever. Before I knew it just became this screenplay and then it became a movie and then all these actors came on-board and now here we are when the world is about to see it.
His character in the film
Rajveer Singh is a young man in his 20's. As I said, where Rajveer is in this film, I think I was two years ago, personally. A young man, who's born and brought up in Canada, but is still very Indian, comes from a very orthodox Sikh family. He's a boy who's trying to find really his calling his life, what he is good at. He's trying to live up to his parents' expectations. At the same time he's trying to make something of himself and follow his own dreams. He's trying to find the balance between being Indian and being Canadian. He's really kind of this boy who is at the place which I think that a lot of young people are in their lives. You know when you are in your early 20's you're just trying to find out what is your calling in life. I think that's where he is.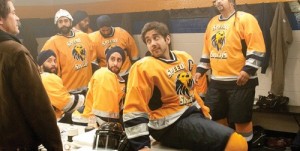 Ice hockey is a backdrop
You know for us here in Canada, hockey is a religion. It's our national sport. So I've grown up on it. I love this sport. Hockey is a backdrop in the film. It is to tell a much larger issue in the film. The things that Rajveer does, the way he distances himself from his religion of being a Sikh. There have been some controversies that have happened here in the past with Sikh playing ice hockey and the whole turban-helmet issue and this was a way to represent Rajveer's larger issues. That's how hockey plays the backdrop. When the boys form their own team, the whole Speedy Singh team in the movie, the whole thing in my mind was that sports ties into the message. That message is that it doesn't depend on your race, your religion, the color of your skin. Sports just depends on one thing which is your desire to play the game and that's what these boys set out to prove.
Working with Mr. Akshay Kumar
Akshay is an amazing person. You know he's one of the biggest stars in the world but yet he's so humble. He was one of the first people I talked to about this story and he said to me "Hey listen, keep writing because I think we might have a film on our hands". He gave me some points on the story. He then said, "I want to produce this film. I want it to be my first Indo-Canadian joint venture." This was so amazing because when someone like that believes in your project from the beginning it just takes the whole film to a whole other level. I was in shock. I just could not believe it. He's been a great producer. He has a very interesting cameo in the film as well. It was just really an honor to have him be a part of this film and back it the way he has.
Working with the international cast and crew
I think that it's really a first. The fact that we have Akshay, Russell Peters, Rob Lowe, Camilla Belle, Anupam Kher who's a legend of acting (He's done over 450 films.) It really comes down to the heart of the script. I think that they all found something that really appealed to them in the story that made them want to do it. I also think that it was just a matter of time before international talent comes together on the same platform to tell a story, which they feel will relate to all their individual audiences. That's the type of film that we've tried to make. We really hope that people in America get it, in Canada get it, in UK, in India. That's the thing that someone like Rob Lowe always says, 'Oh I get it because it reminds me with my relationship with my kids and that's why I want to do this film' or Camilla who says, 'Totally! I get it and I'm so fascinated to learn about the culture as well at the same time.' I think that we've tried to make a film that is universal. That is about family at heart and that worldwide families can all go together to watch this film and take something from it.
Anupam Kher
After 450 films and just getting the international recognition that he has what I found so inspiring about him was that he still has the energy of a first time actor. He treats his work as if he's doing this for the first time: his process of rehearsal, his process of studying his lines, his character. And you know it's not that he can just walk through it, I'm sure he could if he wants to and he could do it better than anybody else, but the fact that he takes that much time for preparation is just so inspiring to see that.
Rob Lowe
Rob is really cool. About 20 years ago he shot a movie called Youngblood here in Canada, which was his first hockey movie, so this was like a home coming for him. He gave me a lot of love; he gave me a lot of support. In the film, we have this relationship of a coach and his star player and how he mentors his athlete to not only become a better player but also to become a better person and I think that's what we were sharing off-screen as well.
Camilla Belle
Camilla is such a sweet girl. I think that she's going to be one of the hottest young actresses; I mean she is, but I think that it's just a matter of time before she really blows up. She's brought so much to the character. She's brought a great combination of sensitivity and also of being confident because that's what her role asks her to do. She's a young law student who takes on a cause of this Speedy Singh team and along the way we form this really special relationship, which turns into something completely unexpected really for the both of us. Bringing that cross-cultural relationship on-screen with her was a lot of fun and in the film as we learn about each other's cultures we were learning about each other off-screen as well. She's so fascinated by the Indian culture, by the food, by the clothing, the dance, the music, the religion, and we could really connect on that level. Working with her was just so much fun and fresh.
Russell Peters
You'd never know what you're gonna get with Russell and I think that is what keeps it so much fun is that every line is different. It's very hard to get Russell to stick to the script, which is tough for a first time actor like me. But the great thing is that when you have a co-actor like Russell you can expect that he is also going to help you out as well. So he keeps you on your toes but at the same time he'll say 'Hey! Why don't you try this because it'll be really funny.' I think that is so generous of him to just be like you know 'Vinay, you have to finish here so I will give you this line' and 'maybe you should try it this way'. He knows comedy so well it really helped me in some of our scenes because we have such a funny back and forth.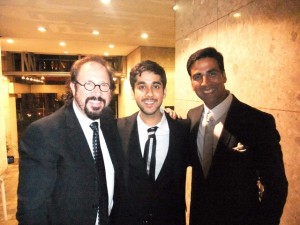 Director Robert Lieberman
Rob Lieberman is somebody who believes in giving their actors freedom and collaboration. He really stands for that. The fact that I was also the writer on this film, but yet a first time actor, he gave me so much space and he gave me so much respect. I think that somebody after the career he's had in Hollywood of directing films for major studios, having one of the biggest commercial companies in the US really he had a sensitive way of getting performance out of his actors. He had spent a lot of time with me before we started shooting, in workshops reading through the scripts, making sure that I was comfortable with everything. We worked so closely on the script together that when we got on sets he really had taken me through the process of making sure my nerves were under control, because coming face to face with a lot of these actors can be a really nerve racking process, which it was. But it was the fact that my director had really shown a lot of confidence in me that gave me the strength to walk on to the sets as if I was just ready to go and I really felt I was.
First day of shooting when you saw the words that you wrote come to life. What was that like?
It was this weird dream come true. It was unreal to bring it to life. But it was because of all the hard work of a lot of people that we were there and we were doing it. I kinda always saw it happening, but the way it would happen and on the level it would happen is just beyond my imagination.
Looking back at the whole experience
Making the film was tough. Though it was 30 days it really felt like months because it was long days. It was a lot of time pressure. The hockey scenes are very tough to shoot, long hours on the ice. But, overall we had become such a close family, everybody on set, that it just made the process that much more fun. Film shoots are tough! Film shoots are stressful because there's a lot of time involved. There's a lot money involved. You have limited hours, and limited dates/days from certain actors, so you have to push yourself mentally, physically, every single day. The energy that you bring at 9 in the morning you have to have the same energy after 12 hours and you have to make it look consistent as if you've not shot for a 12-hour day. So that was all really tough. But when you are around great people, when you're around the cast and the crew that really believes in what you're making, it just all goes by really fast and it all goes by so smoothly.
Why audiences will relate
The fact that no matter where you're from in the world; if you're south Asian, if you're from a Canadian family, or any immigrant family you'll be able to say, 'Yeah I have this relationship with my father, my brother or my girlfriend or with my friends'. I think that it is a universal film at the end of the day. It's a film that people will maybe even learn something from. I think they will learn that between parents and children there's no right or wrong side and that parents are always right or that children are always right. What this film does is it opens up the importance of talking. Me and my father in the film we don't talk. We talk through the mother of the house: 'Oh! You can tell your son that I said this or you could tell my father that I said this', which I think happens in a lot of families. What this film does at the end of the day is it shows that my character Rajveer has his own dreams, has his own ambitions and how the father starts to understand that. But I also start to understand why my dad wanted me to live the life he wanted me to live because of the sacrifices that he made. He left his country in search of opportunities not only for himself but also for me and when he sees me taking a career path that is so unstable and insecure like pro-hockey where the chances of making it and being successful are so small I understand his concern. So the whole idea is that families will maybe start talking. I've been meeting people after the screening. I met this lady who was in tears who said 'I can't wait to see this film with my son because there were times where I pushed him into things he didn't want to do,' or kids coming up and saying, 'I feel like I understand why my dad wanted me to do the things that he wanted me to do,' or whatever it may be, so that's something that I'm very excited for.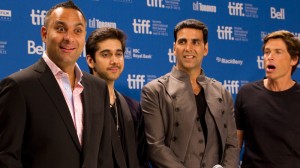 Premiering at Toronto International Film Festival
I don't think it could have been more perfect. The fact that you have a film that is about Toronto, which celebrates the city, its values and you premiere at the biggest festival in the world. I think that our red carpet was amazing. It just brought together all these people, brought together a very diverse crowd in front of the world to showcase our beautiful film. The whole festival just means so much to me because I've been attending the festival for years as a viewer and I know how many films have inspired me sitting through that festival and to present my film to the festival it just so special. It was really a moment in my life that I will never forget.
What he loves about the film
What I love about the film is that it has a lot of heart. It's a feel good film. One thing that I would like to say to the readers is that it is an entertaining film. It's a commercial film…have fun, you'll laugh, you'll cry, you'll fall in love. We wanted to have elements of the film that are message driven but our goal was to really entertain the audiences.
The film opened in India on the 23rd and opens in the rest of the world on the 30th!