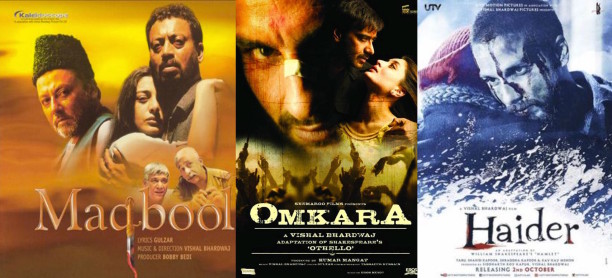 The New York Indian Film Festival (NYIFF), which opens next week on May 4th, will showcase a series of special screenings of Vishal Bhardwaj's brilliant Shakespeare Trilogy Maqbool, Omkara, and Haider. If that wasn't cool enough, after each screening there will be a discussion with Bhardwaj, who will not only talk about the film but take the audience on journey of his career in Hindi film and music.
The first of the trilogy Maqbool (2003), starring Irfan Khan, Tabu, Pankaj Kapoor, Om Puri, Naseeruddin Shah was based on Macbeth, while 2006's Omkara, based on Othello, starred Ajay Devgan, Saif Ali Khan, Vivek Oberoi, Kareena Kapoor, Konkona Sen Sharma, Bipasha Basu, Naseeruddin Shah then there was his latest film, Haider, his version of Hamlet, that starred Shahid Kapoor, Tabu, Shraddha Kapoor, Kay Kay Menon, Irfan Khan. Each of the epic films have received national and international acclaim as well as a huge fan following.
"Prolific writer, composer, director Vishal Bhardwaj's Shakespeare Trilogy is an amazing Special Event at NYIFF 2015. We are really excited that Vishal has agreed to screen and discuss all three films in their Shakesperean context at our festival," said IAAC Artistic Director Aroon Shivdasani.
Vishal Bhardwaj stated, "A Filmmaker changes and grows with every film. I am thrilled to see my Shakespeare trilogy at NYIFF and trace both my personal and professional journey's over the last decade in my films and music."
MAQBOOL screens on Tuesday, May 5, 6:00 pm. Theater 4, Village East Cinema Macbeth meets the Godfather in present-day Mumbai. The Scottish tragedy is set in contemporary underworld of India's commercial capital; two corrupt, fortune telling policemen take the roles of the weird sisters, and "Duncan" is Abbaji, the head of a crime family. Abbajis mistress and Maqbool plot to carry out his death; the sea plays the role of Burnham wood.
OMKARA then shows on Wednesday, May 6, 6:00 pm. Theatre 4, Village East Cinema Shakespeare's masterpiece "Othello" set in modern day India. A political minded enforcer's misguided trust in his lieutenant leads him to suspect his wife of infidelity.
HAIDER showcases on Thursday, May 7, 6:00 pm. Theatre 4, Village East Cinema. A young man returns to Kashmir after his father's disappearance to confront his uncle – the man who had a role in his father's fate and who is now his mother's husband.
The special screenings of Bhardwaj's Shakespeare Trilogy and post-screening discussions will take place during the main festival at the Village East Cinemas, 2nd Avenue and 12th Street, May 5-9, 2015.
Celebrating its 15th year, NYIFF will run May 4th to May 9th, 2015.
The prestigious festival will also showcase Kalki Koechlin's brilliant performance Margarita with a Straw as it's opening night film. Also on the impressive docket of films are Chauranga, City Lights and YRF's fabulous Dum Laga Ke Haisha closing the festival, plus many more.
You can find out more here
About the Indo-American Arts Council (IAAC):
The Indo-American Arts Council is a registered 501(c)3 not-for-profit, secular service and resource arts organization charged with the mission of promoting and building the awareness, creation, production, exhibition, publication and performance of Indian and cross-cultural art forms in North America. The IAAC supports all artistic disciplines in the classical, fusion, folk and innovative forms influenced by the arts of India. We work cooperatively with colleagues around the United States to broaden our collective audiences and to create a network for shared information, resources and funding. Our focus is to work with artists and arts organizations in North America as well as to facilitate artists and arts organizations from India to exhibit, perform and produce their works here.
About the New York Indian Film Festival (NYIFF)
The New York Indian Film Festival (originally the IAAC Film Festival) opened their doors in 2001 following the devastation of the September 11 attacks on New York City. This festival creates an awareness and better understanding of the people and stories from the Indian Diaspora by bringing the most acclaimed feature films, documentaries, and shorts from that region to America's biggest and most remarkable city. Merchant-Ivory's Shakespearewalla was the festival's Opening Night, while Mira Nair's 'Monsoon Wedding' closed IAAC's first film festival before its worldwide theatrical release. Since then, the festival has provided first-looks at many acclaimed films, including Deepa Mehta's Oscar-nominated 'Water,' and 'Midnight's Children', Nair's 'The Namesake,' and 'The Reluctant Fundalmentalist' and the New York Premiere of Danny Boyle's 'Slumdog Millionaire' which won eight Oscars including Best Picture. Some of the artists who support the festival include Nair Mehta, Salman Rushdie, Madhur Jaffrey, Padma Lakshmi, Shabana Azmi, Rishi Kapoor & Neetu Singh Kapoor, Shashi Tharoor, Sarita Chaudhury, Sakina Jaffrey, Anurag Kashyap, Shyam Benegal, Mani Ratnam, Aparna Sen, the late filmmakers Ismail Merchant and Rituparno Ghosh. NYIFF's 15th anniversary will include premiere film screenings, duscussions, industry panels, nightly networking parties, special events, an awards ceremony, and red carpet galas. The festival will run May 4th to 9th at a variety of prestigious New York City venues, including the Skirball Center for Performing Arts, the Paris Theatre and the Village East Cinemas.