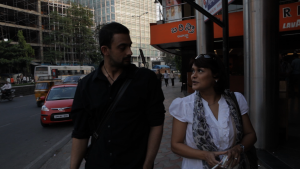 The release date of Vivek Agnihotri's 'Buddha in a Traffic Jam' has been moved by a week. The award-winning film that was to release on May 6th will now release on May 13th clashing with 'Azhar' that releases on the same day. However, the director of the hard-hitting film – that highlights the tussle between youth, freedom and political ideologies – is unperturbed about his film releasing alongside a biggie.
Talking about the clash ahead, Agnihotri says, "When I decided May 6th there were not many films, but slowly it got crowded with lots of small films. I didn't want to get lost between so many small films. So I decided to push it by one week and release opposite 'Azhar'. Better to fight a big film. Ours is a political film and I am sure anyone who loves India will come to see this small, revolutionary film."
The film's teasers have already been making a strong impact online, as they reflect the current state of affairs. The film itself revolves around the internal conflict of an aspiring student and the forever-on tug-of-war between the capitalistic and socialistic thought processes with the establishments.
The cast of 'Buddha In A Traffic Jam' includes Arunoday Singh, Mahie Gill, Anupam Kher, Pallavi Joshi and Anchal Dwivedi.
The film premiered at the 2014 Mumbai International Film Festival and has been showcased at other festivals too.