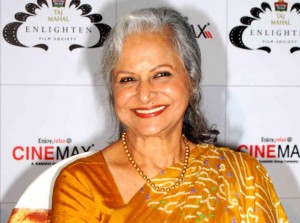 Bollywood's living legend Waheeda Rehman has recently stated in an interview with an Indian news company that the golden era of Indian cinema was not during her years but now in fact. "People come up to me and say that when I did films, that was the golden era, but I don't agree with that. With our films getting appreciation abroad, I feel now is the golden era." The 76 year old actress is regarded by many as one of the finest to have ever surfaced from the Indian film industry. Waheeda is famous for starring in eternal classics such as Pyassa (1957), Kaagaz Ke Phool (1959), Guide (1965), Khamoshi (1969), as well as Kabhi Kabhie (1976). She has also done a number of supporting roles as a senior figure in films like Lamhe (1991) and Rang De Basanti (2006). Her decisions to star in films which contain unorthodox plots and characters played an instrumental role in her success and have conferred her with the legendary status that she has today.
In addition, Waheeda spoke about the transformations which have occurred in Indian cinema and the degree to which they have helped to consolidate the industry's repute. She had this to say: "There have been a lot of good changes – be it technically, or in terms of subjects and performances. There are very good movies made like The Dirty Picture, Kahaani, Black, Paan Singh Tomar and Peepli Live." "But there is too much of uncertainty too. Movies have become very expensive and fortunately for them, within a week they get back their money. But it is not a question of money; it is also about the quality of the movie."
Waheeda also feels that today's actresses are juggling too much work and do not have a chance to take a long breather. "I feel actors burn out fast these days because they do too many things. Other than movies, they take up endorsements, stage performances, promotions, and it takes up so much of their time. I feel sorry for the fact that they have to do so much."
Waheeda will be presented with the Lifetime Achievement Award this month at the 14th Mumbai Film Festival for her contributions towards Indian cinema. An award which no doubt she deserves to the highest extent!