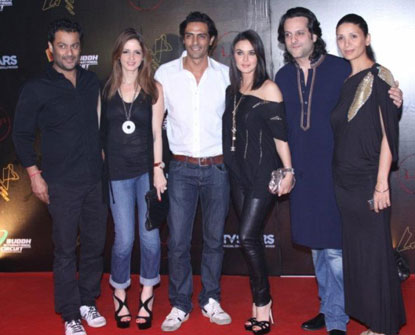 Abhishek Kapoor looks very casual but carries off his outfit well.
I am not a fan of Suzanne Roshan's second outfit, the shoes add a tacky vibe to her outfit and the jeans look cheap!
Arjun Rampal carries off his casual yet smart look well.
Preity Zinta shows us how to work the trendy leather leggings look.
Fardeen Khan opts for an east meets west combo outfit but does not carry it off. I am not a fan of the jeans; Fardeen would have looked much better if he has opted for a darker shade of jeans.
Meher Rampal looks chic in her black gown.
Verdict – Abhishek Kapoor, Arjun Rampal, Preity Zinta and Meher Rampal are HOT! Suzanne Roshan and Fardeen Khan are Not Hot!