The who's who of fashion and cinema attended Hindustan Times Style Awards last week and brought their A-game to the red carpet. Did their efforts pay off? Read on to find out!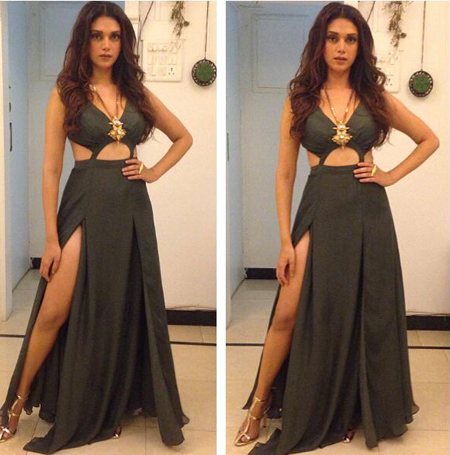 Aditi Rao Hydari
Aditi opted for a designer that stands for all things sexy, Deme by Gabriella. And she pulls off the look with great confidence, which by far is the most important accessory to wear when wearing Deme. Love the tousled hair and Outhouse necklace. Here's hoping this new more confident Aditi on the red carpet is here to say.
Sizzling hot!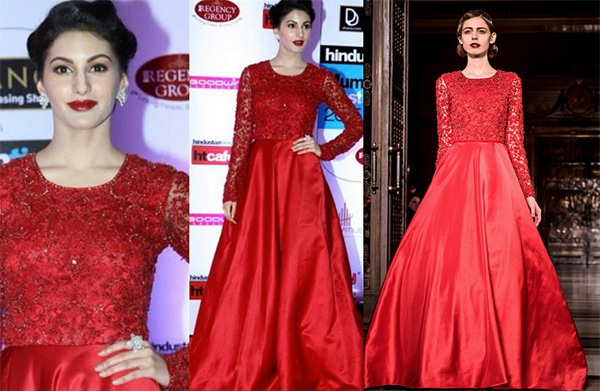 Amrya Dastur
Amrya went all red with a Hema Kaul gown, red lips to compliment and a classic up do. Nothing much to fault with this look except perhaps the gown sleeve length.
Hot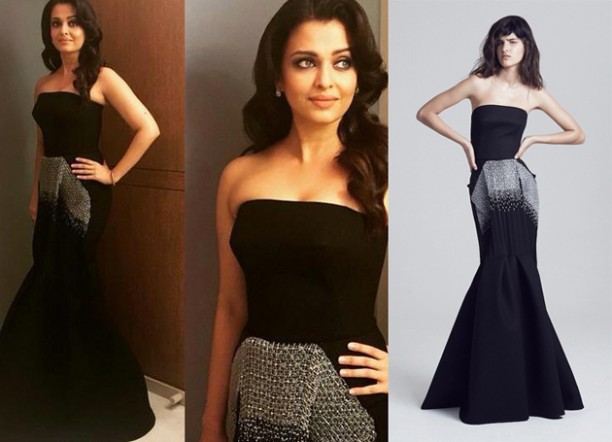 Aishwarya Rai Bachchan
Mrs. Bachchan continues her winning streak on the red carpet, this time with a Toni Maticevski gown. Clutch aside, this was a look that Aishwarya would have pulled off in her sleep!
Very hot!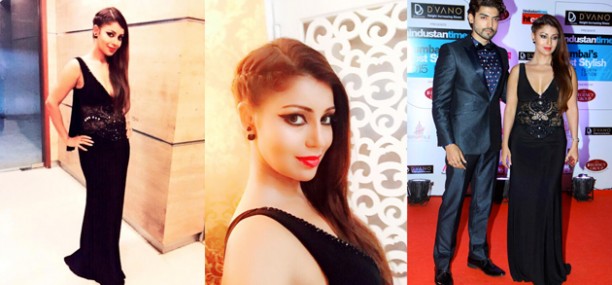 Debina Chaudhry
Debina went with The Snazzy Man by Mohnish Panjabi gown. Love the accessorising, hair and makeup, however the gown lets Debina down. The more I look at it the more the plunging neckline bothers me. It just wasn't as well fitted and 'neat' as it should be.
Could have been hot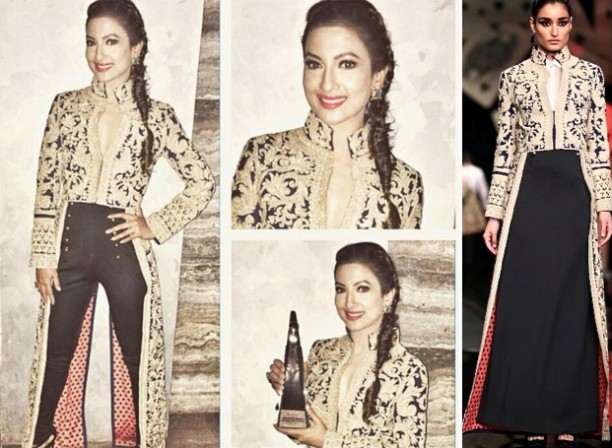 Gauahar Khan
Gauhar was spotted in a Pankaj and Nidhi kurta and pants. Given that the kurta itself was so grand, it was perhaps wise to swap the flowy pants for a fitted high waist one. With that change and the side fishtail braid, Gauahar gave the whole outfit a very young and chic makeover.
Hot!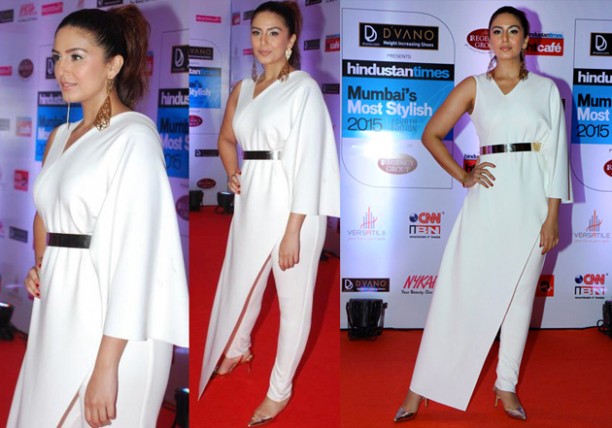 Huma Qureshi
Contrary to popular opinion, Huma Qureshi is not wearing a Nikhil Thampi, but rather a Bhavya Bhatnagar outfit. I guess  Mr. Thampi has truly made the metallic belt his signature, because his collection is all you think of whenever you spot one. The look works for Huma, despite some initial reservations I had with the eye makeup. Props for choosing such a stylish Eina Ahluwalia earrings to compliment the powerpacked attire because nothing says powerful like Eina's jewellery.
Hot!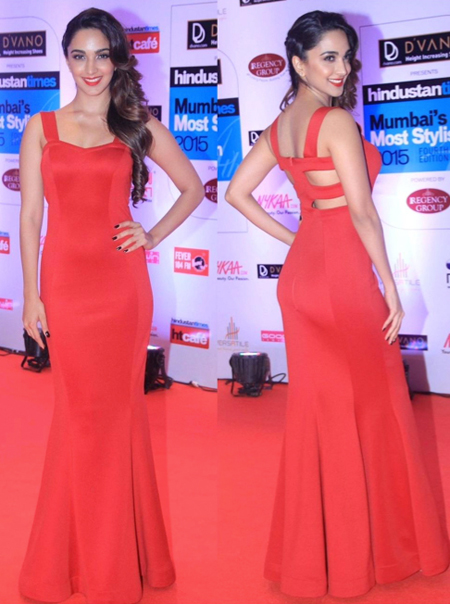 Kiara Advani
Kiara was seen in a Mayyur Girotra gown, which was a complete let-down for the beautiful lady. The cut and the fabric both just didn't leave an impressive impression.
Not Hot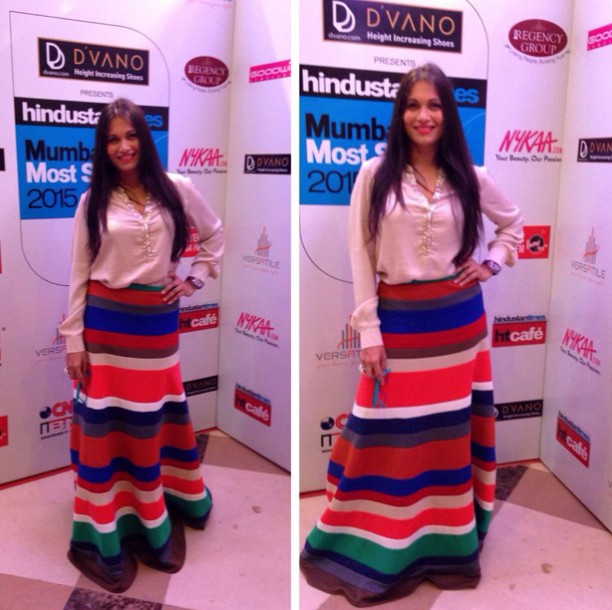 Maria Gorettiz
Also sporting a Mayyur Girotra was Maria Gorettiz. Maria did fare better than Kiara in a Mayyur outfit, however the look still lacked some finishing touches, like the length of the skirt and the fit of the blouse sleeves. Also the tucked in shirt looked sloppy in some moments of the night.
Not Hot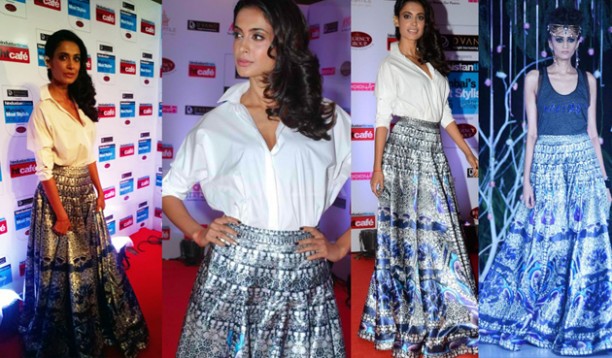 Sarah Jane Dias
The night gives a very valuable lesson to the ladies who are doing the white-shirt-tucked-into-maxi-skirt. The look only works when its neatly executed. Again here with Sarah, we saw one look that had great potential courtesy of the Manish Arora lehenga, which was oh-so-beautiful, but sadly the messy shirt left much to be desired from the look.
Not Hot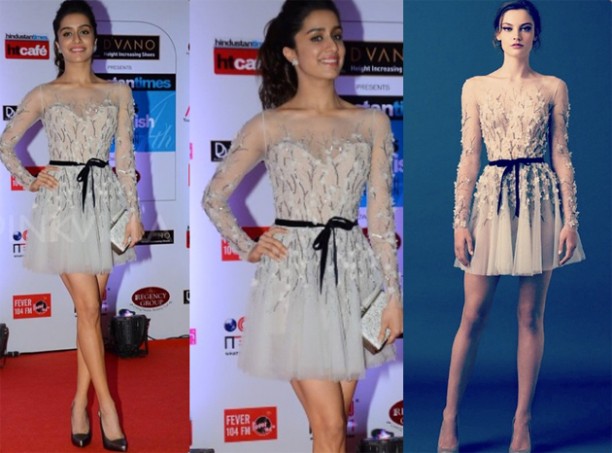 Shraddha Kapoor
Shraddha gets props for opting for a knee-length dress and still maintaining the formaility of the look warranted by the red carpet. She looked effortlessly stunning in the Paolo Sebastian dress, Gehna jewellery, Escada shoes and Forever New clutch.
Hot!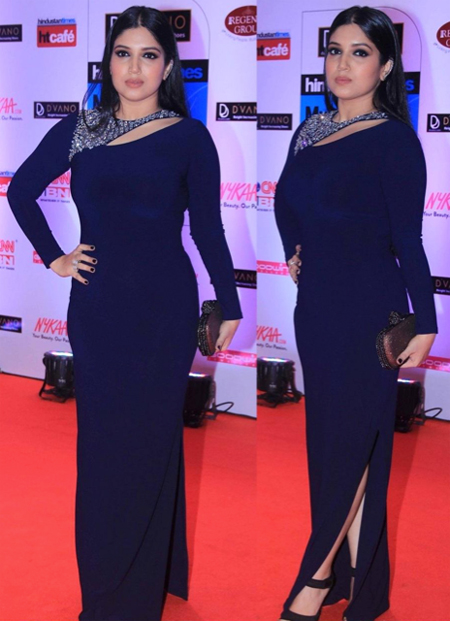 Bhumi Pednekar
The most striking look of the night came from Bhumi Padnekar in a Namrata Joshipura gown. Love the nude lips, smokey eyes, dark nails and sleek hair! This was a winning look all the way!
Sizzling hot!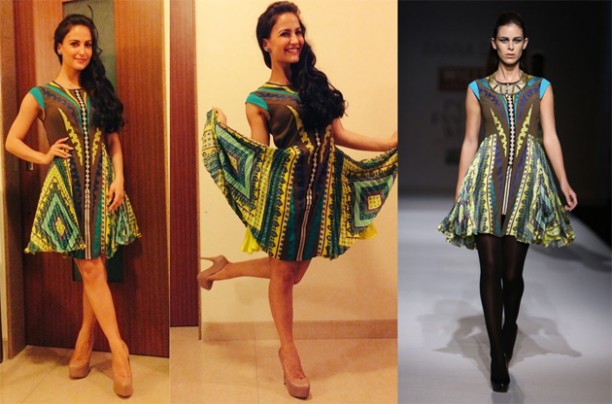 Elli Avvram
And here's the kind of knee high dress that you cannot do at a red carpet event, because it ends up looking like a simple fancy dinner out rather than an award show. Elli Avvram's Rana Gill look was just too casual for the night
Not hot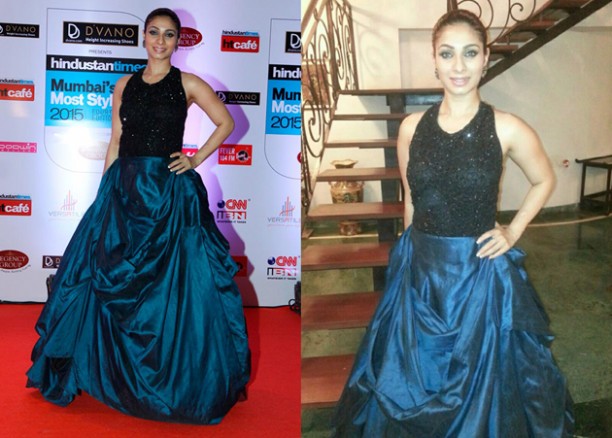 Tanisha Mukherji
It's like Tanisha sometimes challenges herself to wear the oddest of outfits. There was no saving this Ministry of Design gown no matter how well you styled it!
Not hot!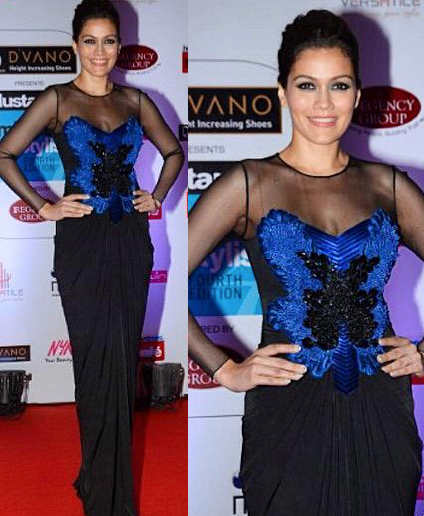 Waluscha De Sousa
Waluscha De Sousa, ex-model, Maneesh Sharma's newest find and Shah Rukh's newest leading lady is already turning heads around tinsel town. She was spotted in a Amit Aggarwal gown on the night looking simply ravishing! Amit's gowns really need very minimal styling, given that they're so grand, so I'm sure glad that Ms De Sousa kept this look strikingly simple.
Hot!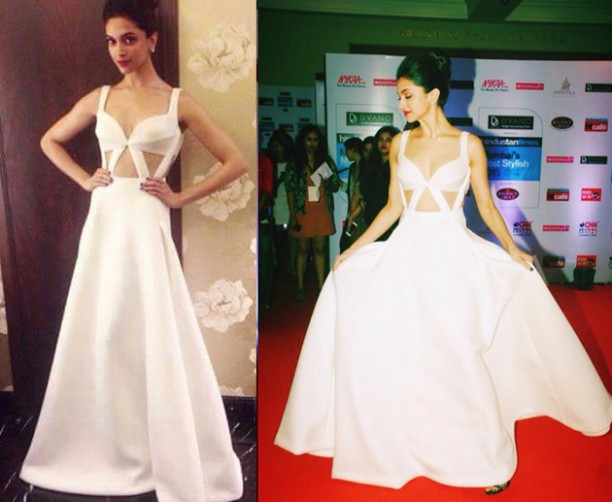 Deepika Padukone
The trend of cut-out gowns continue, however this time around I'm more receptive of the design with this Monisha Jaising piece, which Deepika wore on the night. Perhaps on mere mortals the gown wouldn't work, but Deepika pulls it off with great ease!
Super hot!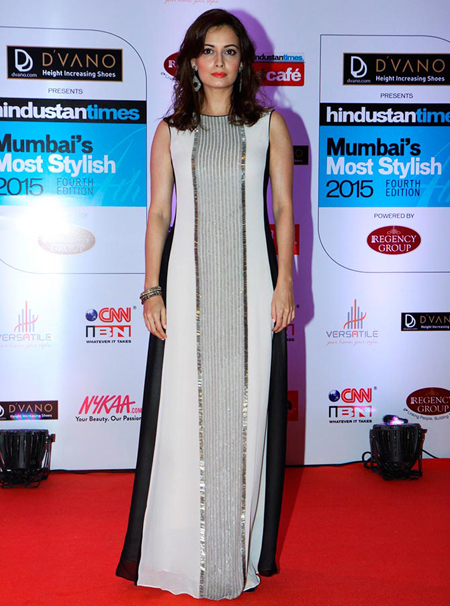 Dia Mirza
One to always root for Dia's style on the red carpet, I'm extremely disappointed with this Rohit Gandhi and Rahul Khanna look. The hair definitely needed to be worn up with this dress, given that it's a simple A-Line cut. With the hair out it all just looked a wee bit messy and overwhelming.
Not hot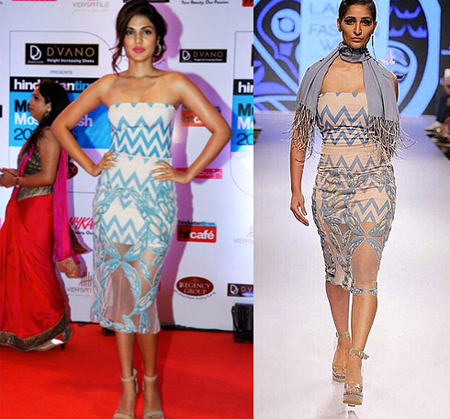 Rhea Chakrabarty
Rhea wore a Babita Malkani dress on the night and styled it quite differently from the way it was presented on the ramp. Sadly, no amount of styling alteration can make this dress any more likeable.
Not hot
Mini Mathur
Another Mayyur Girotra was seen on the red carpet, this time on Mini Mathur. Though it reminds me of another Mayyur Girotra we saw on Deeksha at Filmfare, I can safely say this is a better variation of the design. However, what worked for Deeksha was the styling and here that is the aspect that fails Mini. The hair and the makeup just didn't work.
Not hot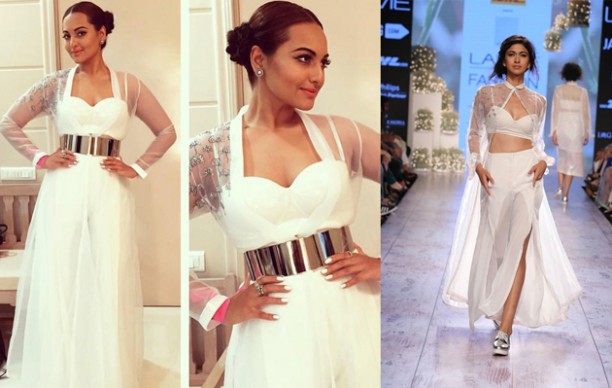 Sonakshi Sinha
I must admit when I first saw this Nishka Lulla look on the ramp I didn't imagine it could be worn in the way Sonakshi has worn the look, but somehow I have instantly fallen in love with the entire concept. Like most people I've had way too much of the cropped-top look for a lifetime, so props to Sonakshi for completely removing that aspect from this look. The addition of the metallic belt was a winning finish touch.
Super hot!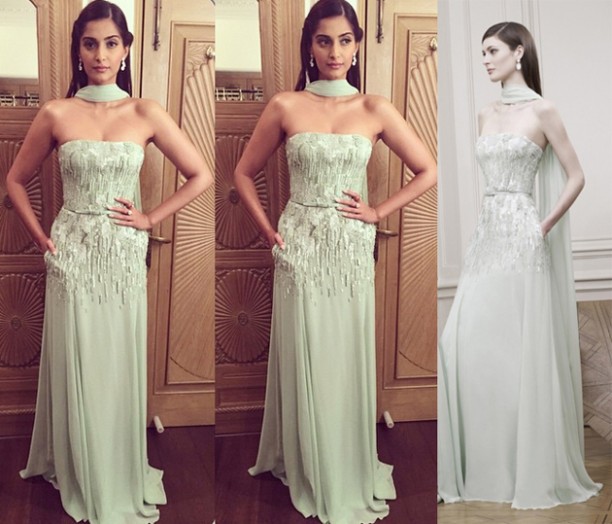 Sonam Kapoor
Wearing her trusty favourite Ellie Saab was Sonam Kapoor. Whilst I have no issues with how Sonam wore the attire, I can't say I'm a fan of the gown itself, which has a very 90s feel to it and not in a good-reminiscent way but in a dated way.
Not hot