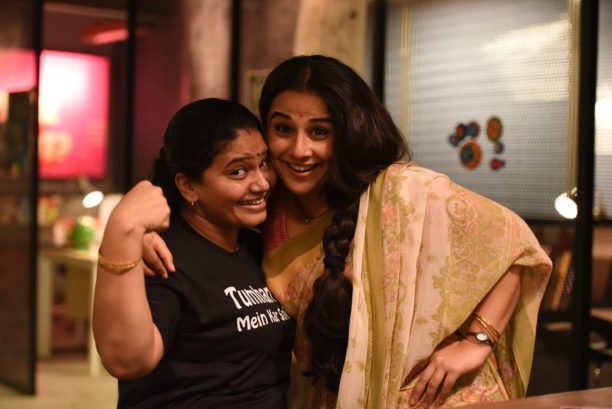 Trupti Khamkar, who started her career with theatre and rose to fame with webseries and stand up comedy, will be seen as lady cab driver of Vidya Balan in Tumhari Sulu.
The actress who is doing theatre over 19 years now shares her experience of working with Vidya Balan. She says, "Vidya is such a lovely person, I never had a co-actor who has stuck to rehearsal because I had one line. She was like it's your line, let's rehearse it. I was awed cause nobody does that. I am really a junior actor in front of her. She has spoilt me in the first film I have shot. She is very humble."
When they went to shoot the scene, Trupti actually stalled Vidya Balan's shot for 10 mins while shooting for Tumhari Sulu. The actress had to shout aloud for a scene which cracked up Vidya so muc that she couldn't stop laughing and they have to stop shooting for her to calm down.
Sharing the incident, Trupti says, "There was a scene where I had to scream at the peak of my voice on the road. Suresh, the director told me to go full throttle and he informed same to her. When we shot for it, I screamed so hard that Vidya got startled and she started laughing and we have to stop shooting for 10 mins. It's very well known that when Vidya laughs it takes some time for her to calm down and get back to shooting."
Trupti Khamkar is the only actress, who has performed play in three different languages in Shakespeare Globe in London and has also been part of TVF's Humourously Yours and Bisht Please.
Tumhari Sulu hits theaters on November 17th!