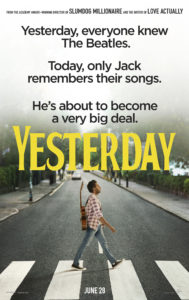 Yesterday from Academy Award-winning director Danny Boyle (Slumdog Millionaire) and Oscar-nominated screenwriter Richard Curtis (Notting Hill, Love Actually, Four Weddings and a Funeral) hits theaters on June 28th. The film stars Himesh Patel, Lily James, Kate McKinnon, and Ed Sheeran in a rock-n-roll comedy.
On Abbey Road, the Beatle's last recorded album, Paul McCartney wrote this lyric for the song, The End, "And in the end, the love you take is equal to the love you make." Although the song doesn't appear in the film, Yesterday, it really sums up the spirit and message of this funny, heart-warming movie. I truly enjoyed the experience of watching this movie and laughed, cried, sighed and sang along as the story unfolded.
Yesterday tells the story of Jack Malik. Yesterday, everyone knew the Beatles. Today only Jack remembers their songs. That, in fact, is the unique starting point for the film. After a mysterious accident, Jack wakes up to discover that he is the only one who remembers the Beatles and all their songs. He is a struggling singer-song writer and was just about to give up when these events occurred. He seizes the opportunity to present the songs as his own and he rockets to fame. The changes this sudden fame brings to his life and to the lives of his friends and family drive the rest of the story.
While the Beatle's lyrics and legacy are main core and inspiration of the movie, the film's actors bring the fantasy tale to life. Himesh Patel, (Jack Malik), creates a character that is simultaneously endearing and frustrating. We cheer his success while also cringing while he tells lie after lie. We want to shake him and tell him to wake up as he repeatedly misses all the signs that his long-time friend and manager, Elie (Lily James), is in love with him and that he is actually in love with her as well.
Himesh Patel is on-screen for almost all of this movie and has to show an incredible range of emotions throughout the film. Jack changes from a struggling singer/songwriter to the biggest star in the world while dealing with his confusion over what happened and his guilt over his deception. Mr. Patel pulls us into Jack's story through his strong acting, both verbally and nonverbally. This movie hinges on the audience caring about Jack and Mr. Patel makes us truly care!
Lily James is Elie and her natural, organic performance is fabulous. Her character went through so many emotions and we felt everything with her from her longing, to her anger to her love. She was perfect in the role.
The chemistry between the two actors is sweet and palatable, but not in an overtly sexual way. We feel their bond and longing and see a connection that goes deeper than a one-night stand. One of the strengths of the movie is that if you strip away the fantasy elements and all the supporting characters, it is at its core a story of love. Ms. Allen and Mr. Patel are the reason that story works.
Of course, we have to mention Kate McKinnon, who is brilliant in her send-up of record industry executives. Ed Sheeran, playing himself, was also delightful.
The supporting characters are also strong including Joel Fry's Rocky and Alexander Arnold as Gavin who bring in some fabulous comedic parts. A special mention and applause must be given to Jack's parents played by Sanjeev Bhaskar and Meera Syal who offer wonderful moments.
Musically, Himesh Patel delivers strong performances of the iconic music. He obviously is not John, Paul, George or Ringo but that is part of the point of the movie. It is a love letter to the brilliance of the songs themselves and how these songs transcend time.
There are a couple of missteps in the movie that bear mentioning. First of all, the event that led to the Beatles being forgotten felt very contrived and not actually necessary. Jack discovers other random products that inexplicably don't exist, and again they felt more like contrivances to add a few more jokes, rather than being connected to the Beatles. Also, at times, the camera angles and other filming and production choices felt awkward. A few "arty" camera angles, which is a pet peeve of mine, were just not necessary in a film like this. Also, a strange moment when one of the titles of a Beatle's song is made to be like a train coming at Jack and Elie in a tunnel made me shake my head.
Overall the movie is charming and profound and moving. It is funny and poignant, both deeper and lighter than I expected. It is a story told in many layers and I find myself continuing to think about the characters and wondering what they might be up to now. It is above all, a love letter to the Beatles and the impact their genius has had on the world. In my opinion, the message of the movie can be summed up by a famous lyric (of one of the songs most people of all ages know and can sing along with): All You Need is Love. And I would agree: All you do need is love and to go see Yesterday!