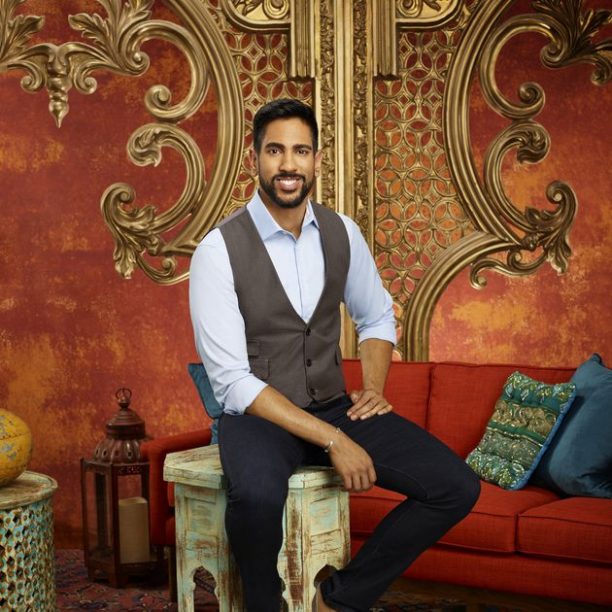 Bravo debuted their newest docu-series Family Karma on March 8th and ever since that first episode viewers have been addicted! What makes Family Karma so special is that it is the first show to feature an all Indian cast. The show follows the lives of seven friends, Anisha Ramakrishna, Vishal Parvani, Amrit Kapai, Brian Benni, Monica Vaswani, Bali Chainani, and Shaan Patel, along with their extended families, in Miami. With charm and warmth, Family Karma travels inside their friendships and loves, watching them honoring family and traditions and most of all seeing them living life to the fullest.
We were able to catch Amrit Kapai to have a chat about the show! In this fun, fascinating and revealing conversation Amrit talks about his friends, family and all things Family Karma.
When you first heard about the show, what did you think?
I was completely excited about it. I knew this was a once in a lifetime opportunity to be part of the first full Indian cast on TV. I saw this as a chance to not only showcase Indian culture but also to tell my story. Everything about that was exciting to me.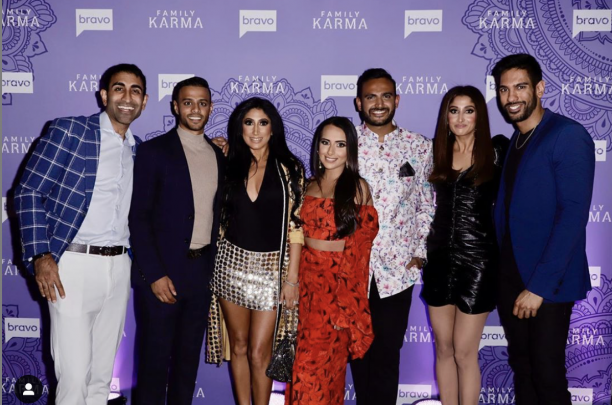 What are your thoughts on it being first full Indian cast on US national TV?
It's incredible. Growing up Desi, I remember I would watch TV and I would never really see anyone of Indian background or South Asian heritage. You just kind of thought 'well we're the minority and that's just how it is', but it shouldn't have to be that way. So for us to now be on TV and have people be able to relate to us. It's been a great opportunity.
What did your parents think about being a part of the show?
I think when I first talked to them, they weren't initially sure what to think of it. I don't know if they thought this would be like a Full House. I kind of just told them 'Maa, no this is just going to be our lives and we are who we are.' I think they were onboard and they have been supportive. I think they were a little nervous in the beginning about me talking about my sexuality, but again they have been really supportive all the way.
Your parents have been so supportive, what does that mean to you? 

It's awesome. I was just telling someone the other day that someone on Facebook had commented about the show, how they were enjoying it, and my mom had responded on Facebook and said something along the lines of 'Yeah we support our son and the decision to come out and we would want to be a resource to other people who are struggling with this'. Just reading that comment myself, I was at a loss for words. I thought if 12-year-old Amrit could have seen this comment, he would have been so less stressed out about all of it at that age.
They love your boyfriend! Will we see a wedding in the future? 

Time will tell. I know my parents and even though I'm gay and sort of not traditional at all, but I think they still want me to stay as close to the traditional path as possible, i.e. settle down, have kids, get married. I think they want that whole life for me, whether it's with a boy. I still think they want that. There's pressure, so we'll have to see.
What's it like living your life in front of the camera?
I'm not gonna lie, it took some getting used to. Especially at the beginning. It's just different; it's a completely different experience. There's no sort of training for it – I went to law school! I know how to be an attorney, like there's no reality TV school that we can go to beforehand. You're just kind of thrown into it. In the beginning, it took some getting used to but over time, the cameras just disappear. It's crazy because at a certain point, you don't even realize that they are there. So you're just yourself and you're engaging in conversation and you're not even thinking about the people that are around you, you're focusing on just what's happening in the moment.
You and Vishal are good friends, and we know from the show he's an actor. So how much do you think he's acting in the show?
You know that's funny. I know Vishal inside out. And when I see him on these episodes, that is 110% who he is. There is no acting, that's just him, that goofy sort of sweet, funny, kind of aloof – that's all him. That's just who he is.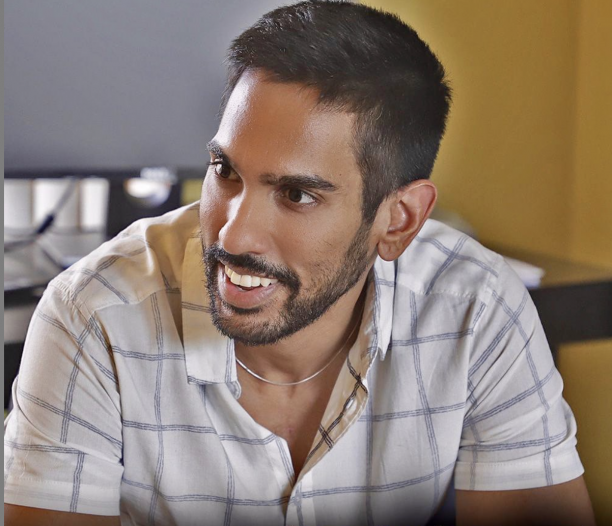 Would you watch a show like this?
Absolutely! I thought about that question myself you know and 100% I would watch a show like this. This is the first time I get to see someone like me and an Indian group of friends. It would have been a really cool experience even if I wasn't on the cast to see some representation on TV.
After being on the show, has your relationship with your friends changed?
Obviously there are times when you relive an argument and some things might hit home again for you. The approach that I usually take is if something's on my mind, if something's bothering me about what has happened or what someone is saying that since we've known each other for so many years and I care enough about these people to just pick up the phone, reach out, and just say 'hey can we talk?'… I saw something like this happen and what was said and I want to talk about it. Just always make sure there's an open line of communication. It's better to get things out in the open, address them head on, then to just let them sit there and fester and fester and fester. That just makes it all worse. If anything, my friendship has grown stronger because it's something we loved doing together.
The parents seem so supportive of this, is that true and what would you say about that?
The parents have gone above and beyond in this. They always do, so I can't say that I'm shocked. They really have just been so supportive each step of the way. They know that this is something we want to do and I think they appreciate the positive impact of this show for so many different people.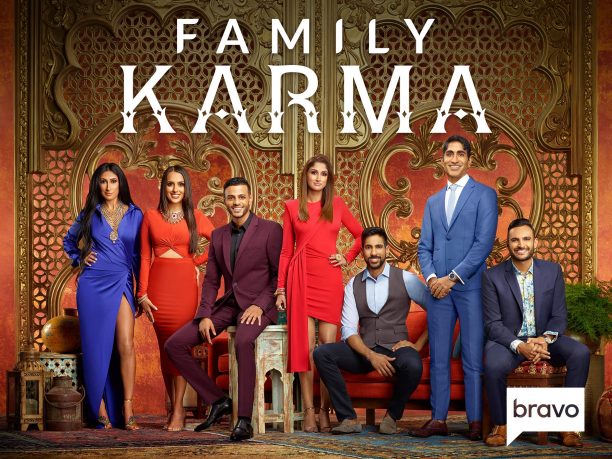 What does it mean to you that so many people from so many different walks of life, not just Indians, are watching this show?
I love that. These shows are obviously for entertainment and we want people to laugh and you know go through the ups and downs with us. But you know, putting that aside, we hopefully are teaching people, people of a non-Indian background, we're teaching them about our culture, we're showing them what kinds of foods we eat, show them the staple events that are a part of Indian culture, our parents struggles to get to this country. That hasn't been done before so it's almost for fun and for learning.
For our BollySpice audience, can you share who is your favorite actor, actress and what is your favorite movie? 

When I was younger, my favorite actor was Akshay Kumar and I think I had a little boy crush on him and I didn't even really know what gay meant back then. My favorite Bollywood actress was Aishwarya Rai. And again same thing, I was just so infatuated with her, her beauty just left me without words. I don't know, one time in Mumbai, I tried to meet her because she was filming a movie but unfortunately it didn't work out. I spent like 8 hours in a car waiting for her to come out of her mobile van, where she was sitting in. Anyways, I love her; I think she's beautiful. As I got older, Hrithik Roshan came into the picture. Then I was like Oh My God, so beautiful, that's when the gay kicked in. (Laughs) That's when I was like 'Wow, this man is so handsome'. I would have to say those are my top. My favorite movie I would say is Kuch Kuch Hota Hai was always on the top. Anything Karan Johar, anything he touched – Kuch Kuch Hota Hai, Kabhi Khushi Kabhi Gham, and then Mohabbetein, they all came out back to back to back.
What has been the most challenging thing about the show?
Putting aside the sort of natural juggling in the day-to-day wise. Your work and your family demands and your social lives, all of that in of itself is challenging. It's a lot of managing your time. But I think the other challenging aspect of it is just accepting that life is gonna be on TV. There are certain parts of your life that you may have wanted to keep private before Family Karma but now, it's going to be out in the open. Just mentally embracing and accepting and being okay with that. We're all imperfect, and there's a certain amount of duty that comes with being imperfect, and I think that's okay.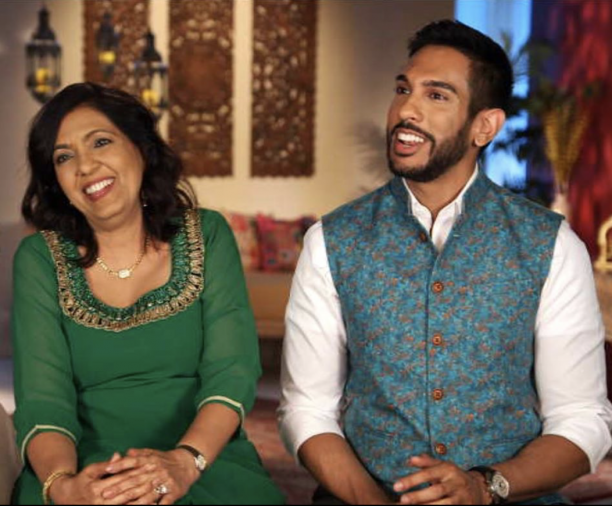 What surprised you about being on the show?
I would have to say, this kind of ties back to what we discussed earlier, just how accepting my parents have been. I was out but it wasn't like this announcement to extended family that live around the world or even in this country, it wasn't necessarily something everyone knew about. There was a leap of faith to go on it and just put it all out there and see how accepting they have been and how supportive they have been of that.
Rapid fire round:
Who's the nicest person? 
 Vishal
Who's the funniest person? 
 Honestly Anisha cracks me up. We have very similar senses of humor – the dry sarcasm – she always gets me.
Who's the most easygoing? Brian, of course.
Who would you want to handle the social distancing quarantine with? My mom.
Be sure to watch and catch up Bravo's Family Karma, which airs on Sundays at 9/8 ET.
Also check out our other Family Karma Interviews with Monica, Vishal and Bali and stay tuned for more!