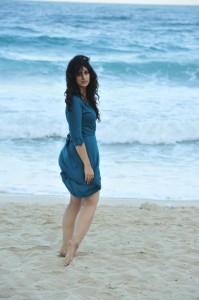 Her introduction begins with her talking about her day job at Google as a community manager. But spend 10 minutes talking to Sagari Venkata and her passion for music is surprising as equally as being infectious. When we finally meet over coffee, our topic of discussion has a third added dimension – movies. Sagari plays the lead in All I Want Is Everything (AIWIE), a low-budget indie about three female friends who meet at a film institute and bond over life's trials and tribulations. The film, directed by debutant Shital Morjaria has been touring film festivals nationally and is being readied for a limited release under the 'PVR Directors Rare' banner, coincidentally on Women's day i.e. 8th March.
I've known you primarily as a singer and now you're set to debut as an Indie film lead actress, was this charted path?
My dad's a composer; my grandfather is a musician, so it's been in the family. I have grown up listening to it, so it's sort of in the genes. Thru my childhood I took part in small contests, but I had a fear of singing in-front of people, especially because my dad was very famous back then among the light music circles. For me it was always at the back of my head that if I don't sing well, it would somehow taint his image. While I was exposed only to his music till then, as time passed by I developed my own interest in other music styles. So now I don't have a particular genre, but I look out for music that is simple, relatable, that touches people and can connect with. I had Carnatic training for random intervals, but I could never do a proper professional training. Acting and Singing have been a childhood dream, something I've always wanted to do at some point of time. Last two years was when I started working on the acting aspect. Around the same time I sang in a Telugu film and then some months later, All I Want Is Everything happened.
How did AIWIE, the movie come about for you?
Incidentally I met Shital thru our common dietician. I had gotten movie offers before this, be it in the Tollywood industry or smaller roles in Bollywood, Tamil and Kannada as well, but I always went by my gut. I needed my first film to define what movies I wanted to. I wanted it to make a statement. I met Shital sometime in November 2011 and the film was completed by February-end. The reason I took up Shital's movie even though I had no idea whether it would be a commercial movie, whether it would be big, whether anyone would finally watch it or no, for me acting matters so much more.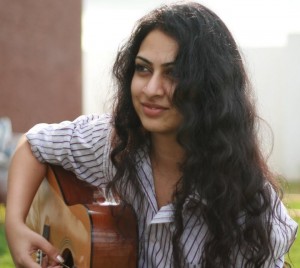 The film seems urban and young. Briefly, what is AIWIE all about?
All I Want Is Everything is set in the cosmopolitan city of Hyderabad in South India where three girls, Nidhi (Sampada), Vaijanti (myself) and Trisha (Iantha), meet for a film appreciation course and become friends. Each girl has a story to tell. The underlying emotions of fears, desires, aspirations and well-kept secrets are a part of their life-stories. It was planned to be 90 minutes, it's ended up being a 60-minute film. Everything we thought we wanted to be part of the movie has been covered and we are very happy with it.
Tell us about your character 'Vaijanti' and the backstory that went into you becoming 'Vaijanti'?
Vaijanti is a 20-something girl from a conservative Tamil family. She has her own set of aspirations which she keeps to herself because she knows her parents wouldn't approve. She has a possessive boyfriend, whom she plans to get married. In that way it's a very normal character, but hers is the role that brings about an unexpected twist in the movie and takes their friendship to another level. It's her character that goes thru a lot of transformation from the beginning to the end. When I met Shital for the story-reading, she explained the characters to me, I wanted to do either of the other two characters and not Vaijanti, because it felt like it was exactly me. I went looking exactly like they wanted Vaijanti to look. So it was sort of my story in a way. I was apprehensive because I was thinking that I didn't want to bring too much of me into the character. At the same time, it was a challenge to not let that happen. There would be scenes, where Shital would tell me act in a particular way and I would tell her that I wouldn't do that. And she would tell me 'exactly! You wouldn't do that, but probably Vaijanti would'.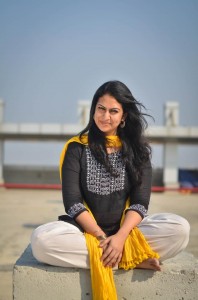 How was it working with the team, especially since most of the crew including both your co-stars (Sampada Harkara and Iantha Mitchell) and director are debutants?
Shital arranged for a lot of rehearsals, workshops, we would have readings together. She wanted to make sure the chemistry was developed before we came infront of the screen and it really worked. The rehearsals went on for around 2-3 weeks atleast and the shoot was for 2 whole weeks. The shoot did get a little stressful, it being the first time for all of us; we didn't anticipate a few things; we had to think on our feet, postpone a few shoots, and cancel a few scenes. We all had our differences especially on the set when we were working on a time constraint. I had to go back to work; Iantha had to return to college, so we had to finish in the given schedule. So understandably we had our small fights but we behaved like women, sat down and spoke about our feelings. It was a roller-coaster but at the end of the day we are all thrilled with how it has turned out.
What was your working relationship with Shital like?
It was like an instant thing for both of us. She saw me and she knew I would fit Vaijanti's role really well. After my first conversation, I was very happy because there was finally this director who was so involved in the casting process, in making sure that the actors understands what the role is, connects with the characters, taking the actors feedbacks, organising a month-workshop before the actual shoot begins. I liked that approach. With Shital I saw the sensibilities that I connected with, someone who would acknowledge the things that mattered to me, like taking my inputs, making sure she gave me the time to work it out.
To debut with an Indie is a bold step, were you more apprehensive or confident about signing this film?
Frankly speaking, it worked both ways for me. It would give me the exposure of what a filmmaking process is from start to end as well as the experience of acting infront of the camera. I always believed that I am a good actress, that I belong infront of the screen, but for all we know I could be bad. So it was something that I had to try out and this felt perfect because there were so many people investing in building the character, taking inputs, taking us to locations and telling us where we would be shooting which scene. For me, this felt like the perfect first film.
The film has been to three film festivals and has had a cast+crew screening back home, what has been the response to them?
The cast and crew honestly was just homecoming because we were just elated to have made the movie. It was still a nice experience being the lead role of the movie. At the Goa screening, though I couldn't attend, Shital was requested for an additional screening, so it was encouraging. They liked the aspect of the movie based on three girls, a proper indie film where the biggest asset is the story. So yes, generally positive feedback.
Finally, what does the future hold for Sagari Venkata?
I am not one of those people who plan a lot. I don't really plan out things. My world changes after I listen to really good music and I am someone who takes spontaneous decisions. My asset is speaking Telugu; I want to do Telugu films. I've been lucky that I have two options that I really love – singing and acting. I don't mind any avenues – playback singing, independent artiste, stage shows, at the end of the day its singing. I'm focussing a lot on singing but if acting too comes my way, if someone sees me in AIWIE and wants to sign me, I'm more than happy to do it.
All I want is Everything releases under the 'PVR Directors Rare' banner in Hyderabad on March 8th and in other select cities on March 15th.