To celebrate the recent success of the movie The Dirty Picture Ekta Kapoor held a party last Wednesday in Juhu, Mumbai.
Jeetendra, Amitabh Bachchan, Karan Johar, Raveena Tandon and the leading lady herself, Vidya Balan, where just some of the stars to attend the party.
We of course put our fashion hats on to see which stars where dressed to impress and which got dressed in the dark. Click on to see whose outfits where looking hot and whose unfortunately where not….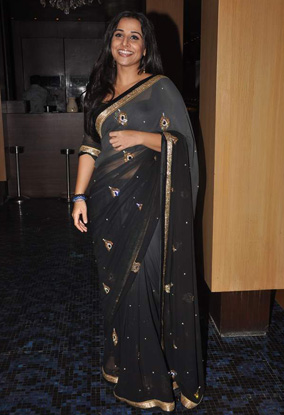 If there is one actress that knows how to work a simple sari it is Vidya Balan. I love how Vidya has kept her look simple opting for minimal accessories. I do also like her longer sleeved blouse that makes a pleasant change from the blouses out there.
Verdict – Vidya Balan is HOT!