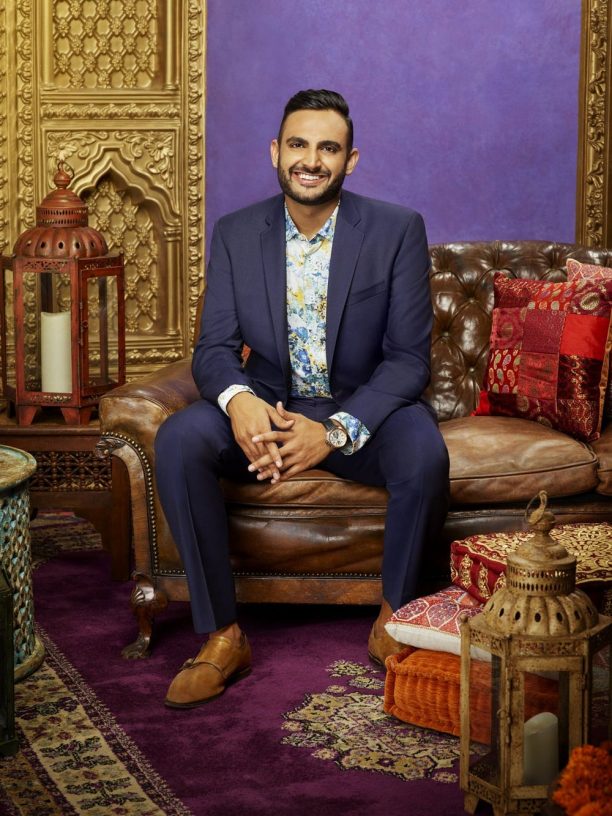 Featuring a TV history first of an all Indian cast, Bravo's hit docs-series Family Karma, delves into the lives of seven friends: Anisha Ramakrishna, Vishal Parvani, Amrit Kapai, Brian Benni, Monica Vaswani, Bali Chainani, and Shaan Patel, along with their multi-generational families. Family Karma showcases their day-to-day life in Miami, the traditions and culture and most importantly highlights the love that flows within the families and through these seven friends.
We now introduce you to another wonderful cast member Shaan Patel. In a fun and laughter filled conversation, Shaan tells us what it's like to film live in front of the camera, what he thinks is so cool about the show and so much more!
How did this show come about?
We are such a close group of friends and our families have known each other for more than 20 years. Bravo found us and they said they thought it would be a very interesting story and we hope you guys think so as well.
How do you feel about being a part of the first all-Indian cast on an US reality TV show?
I remember the first time someone told me that on the phone I was like wow, this is real! I am obviously very proud. Definitely very proud to be adding to the many different stories about Indian Americans that have already been told and adding a lot of depth to those stories in our different ways.
What do your parents think?
(Laughs) My parents are pretty funny and wild as well. Obviously, you can tell by the show that the parents just absolutely, without conditions, love their kids. Even as much as the hardest time that they give them, our parents are here to support us. I think that is why so many people love the show so much is watching that love from the family and between the family – that is so contagious and you just want to keep watching it. My parents are like super down to do whatever to support us and support whatever I wanted to do. My whole family too.
What does your girlfriend Pooja think about being on the show and about the show?
So… I started dating Pooja a couple of weeks before I started filming actually. It just happened to be that way. It actually was at the end of our first date when I told her, 'Oh by the way, I am on a reality show that is going to start filming soon' (laughs). I didn't think I was going to get a second date! She came around. She realized I wasn't a total "douche bag" and she gave me a chance. She ended up loving being a part of it and filming for the show.
What is it like film live in front of the camera?
You know, it is really overwhelming at first with all the people and the sound and the cameras but after a while it just become routine. You get used to it like everything else. It happens pretty fast, it is like 'Oh my God this is part of my life that never happened before' to like 'Oh wow, this is something that is happening every week'. I guess it is kind of like quarantine; it becomes your life before you know it. You don't remember a time when you didn't have it.
I think it is so important in today's day and age that we have a show like this, would you agree?
I totally agree! We are getting so much traction from people on-line and different news outlets. I think a lot of different groups were just craving something like this. Especially in this time. Thankfully we could be that.
In his interview during the rapid fire round Vishal was asked who he would date (couldn't say Richa) so he named you and said you would be a good boyfriend… thoughts? And are you a good boyfriend?
(Laughs!) I appreciate that! (Laughs) I'd like to think I am very good boyfriend – you would have to ask Pooja that…
Honestly, since he is an actor how much do you think is Vishal acting for the camera?
I don't think he is as uncomfortable as he seems on the show. I think what people are always looking for is genuine reality shows right? As a society I think we can see when something is fake and when it is not…the biggest thing that you can't fake is your own relationship with your mom and with your family. I think quite honestly that Family Karma is telling that genuine story because you can't fake the way your mom yells at you! (Laughs)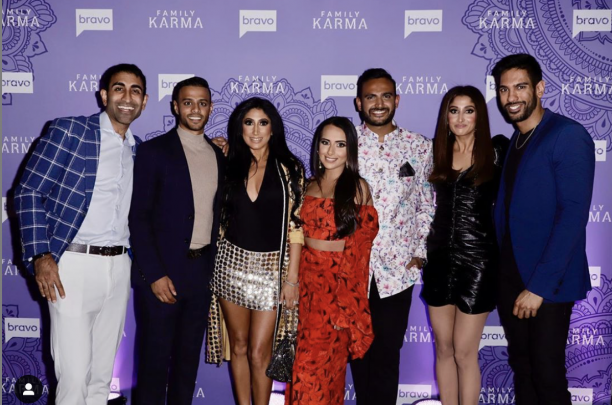 Would you watch a show like this?
You know, I wasn't big into reality shows before but I definitely have enjoyed them. I think there is not an Indian in America who has not heard about this show so I definitely would be watching it. I think I would be really enjoying it. I think it is remarkable for so many people to see people that are like them on TV. The most heartwarming message that I have gotten is just little things, like 'Oh my God, I can't believe someone's eating khichdi with their hands on TV. I can't believe it because I have never seen that in my entire life!' Even, I think, with our own culture we don't see things like that even in a Bollywood movie. (Laughs) Regular, everyday life – we crave seeing our community represented. It is nice that people see that.
How amazing is it that not only South Asians that are loving this show but also people from everywhere…
Yes. I have been really happy seeing all the different cultures that could relate to us. I was actually talking to somebody today and they were watching the show for the first time. He said it totally reminded me of growing up in a Pennsylvania Dutch community and how the Amish families were so involved in their kids' lives. The parents would hang out and the kids would hang out. I was like oh my God, I never would think that could relate to that! There are many minorities' communities in America, wherever they are, whether it be Pennsylvania Dutch or Latino or any that could relate to our show.
BollySpice.com focuses on Bollywood, so can you tell us who is your favorite actor, actress and which is your favorite movie?
My favorite movie growing up was Mohabbatein. Always my favorite movie. I did try to watch as an adult but I didn't realize that it was 4 hours but I did do it! My favorite actor is definitely Shah Rukh Khan! Everyone as a kid wanted to be like that likable fun person that always gets the girl! (Laughs) My favorite actress is Rani Mukerji. Pooja and I just watched Gully Boy a couple of weeks ago during quarantine and we loved it too.
What have you found challenging about being a part of the show?
I think just getting used to the filming and getting used to that kind of thing. Obviously dealing with my personal relationships alongside my filming commitments was challenging. I think it was just time and relationships was the most challenging thing.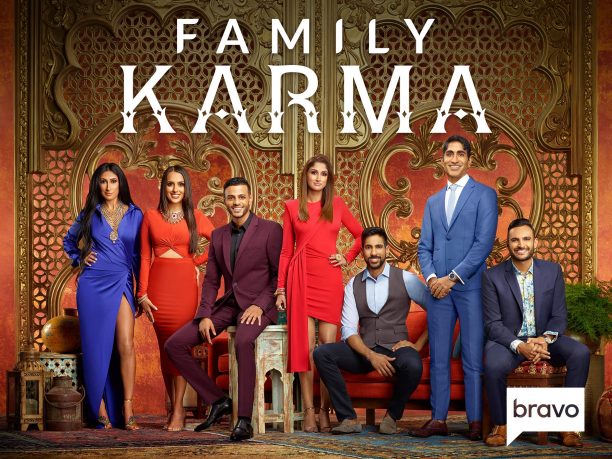 Throughout this whole thing has your friend group stayed close? Has it changed it anyway?
I think you can't go through something like this without change because this is obviously a big thing. But we are the only seven people in the world who know how each other feels so I think at the end of the day, through ups and downs, it does bring us closer.
Who is the Nicest Person?
Definitely Bali, she is like harsh on-screen but she is like a big softie and a mom at the end of the day to all of us!
Funniest person?
100% Anisha!
Most Easygoing?
(Laughs) Besides myself? (Laughs) It is probably Richa – Vishal's fiancée.
From this cast (not Pooja) who would you handle this social distancing-quarantine with best?
Can I say Auntie Chitra, Anisha's mom? I think she would be like hysterical every day. She is fun! Auntie Chitra and I have a good time when we are together.
What you have loved?
The most fun filming I had was in Key West. It was just fun to all get together and hang out as a big group. I think we all felt the most ourselves there.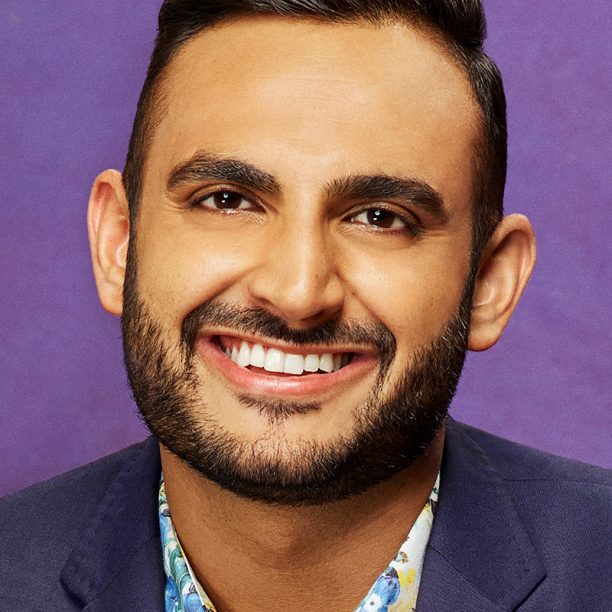 Seeing the show as it airs what do you think?
It is definitely wild to watch it. It has been very nice to see what most of the reactions have been. Overwhelmingly positive and supportive! People seem to really like the show. There really is something about the show that people that don't normally watch things on Bravo, watch and like this show. I think that is what is cool about it! It is an overall very positive show about a group of friends and their families. I think that there is something relatable about that. There is entertainment involved but there is also a lot of relatability.
Be sure to catch Family Karma on Bravo on Sundays at 9pm and catch up on the episodes you have missed and join in the fun!
We also have fab interviews with Bali, Monica, Vishal, and Amrit so check those out too!